45 Splashy Kitchen Backsplashes Kitchen backsplashes no longer simply protect walls from spills and splatters,
a wide array of eye-catching materials like glass, wood, metals and stone make the backsplash the focal point of today's kitchens.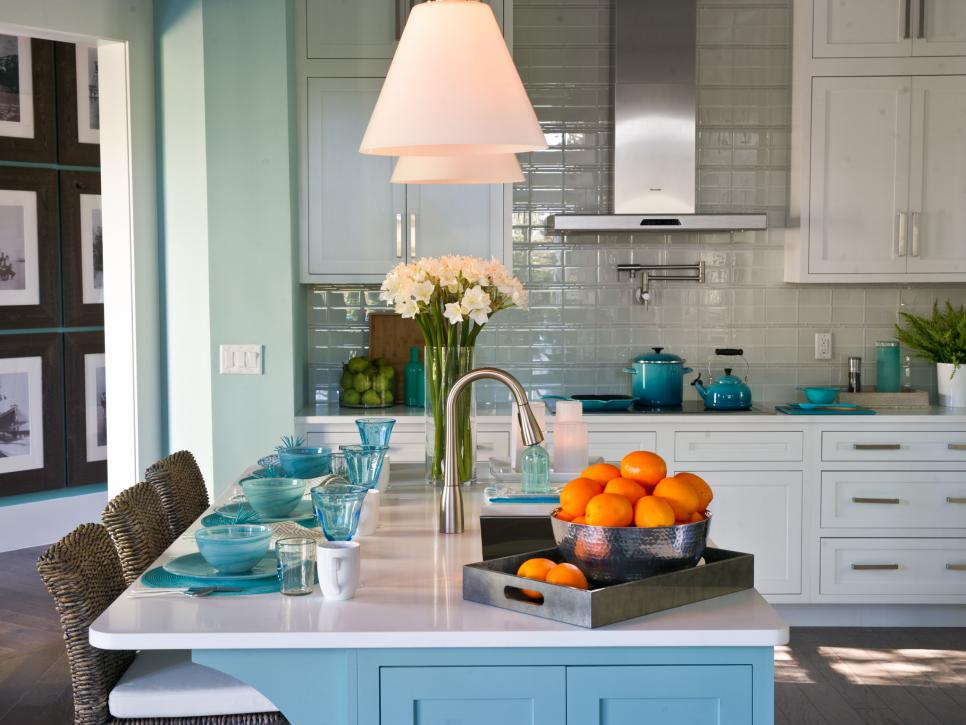 So Many Options
From traditional tile to trendy glass — and shiny metal to rustic wood — there is seemingly no end of choices for kitchen backsplashes today. "Tile is still the most popular backsplash material, with natural stone a fast-growing second," says John Morgan, 2013 National President of theNational Kitchen and Bath Association. "But with the right installer, you can make just about any material work."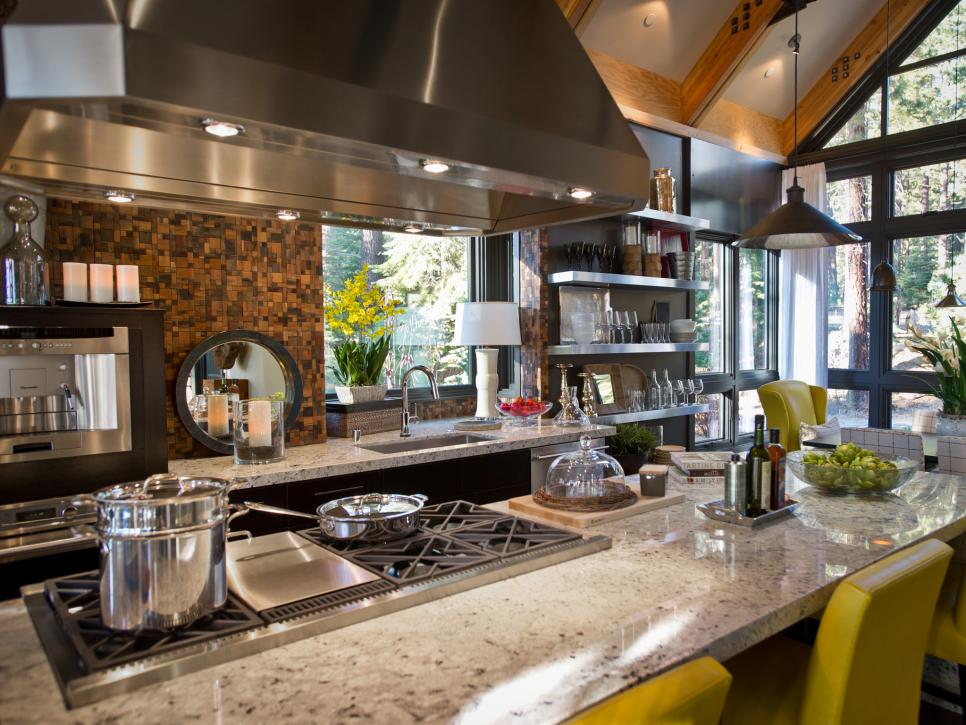 Salvaged Materials: Antique Wood Mosaic
A foil to shimmering stainless steel, this mosaic tile backsplash from the HGTV Dream Home 2014 kitchen is fashioned from antique boat wood. Impervious to moisture, it requires neither grout nor sealant.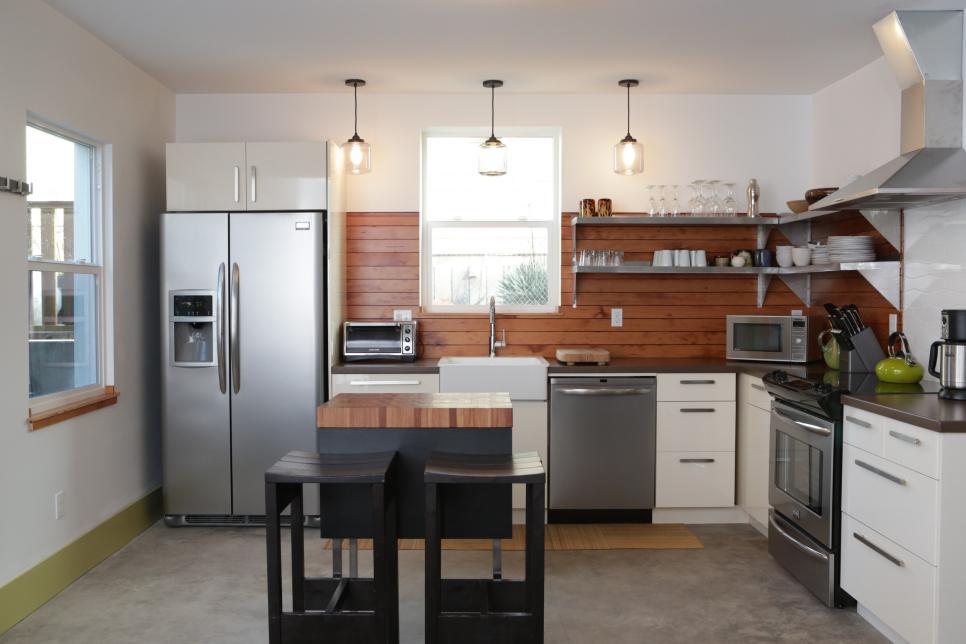 Salvaged Materials: Reclaimed Wood
Who says hardwood is only meant for floors? The standout feature of this open-concept kitchen is the reclaimed wood backsplash that warms up the stainless steel appliances and concrete floor.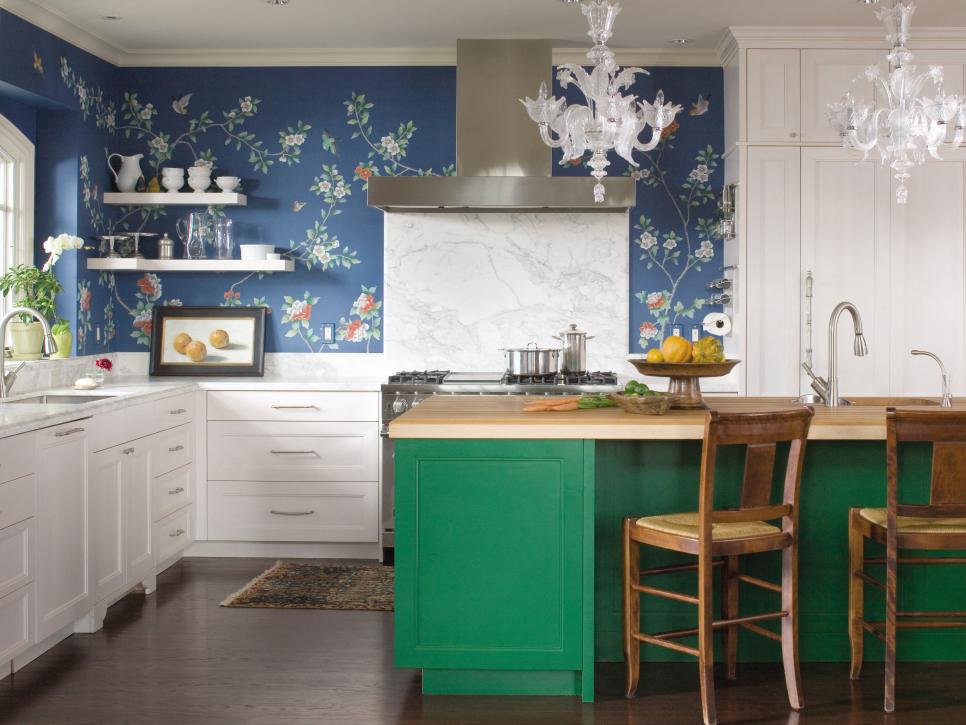 Paper: Marble + Wallpaper
A white kitchen doesn't have to be ALL white. Here, a gleaming white Carrara marble backsplash gives way to make the fanciful floral wallpaper the star.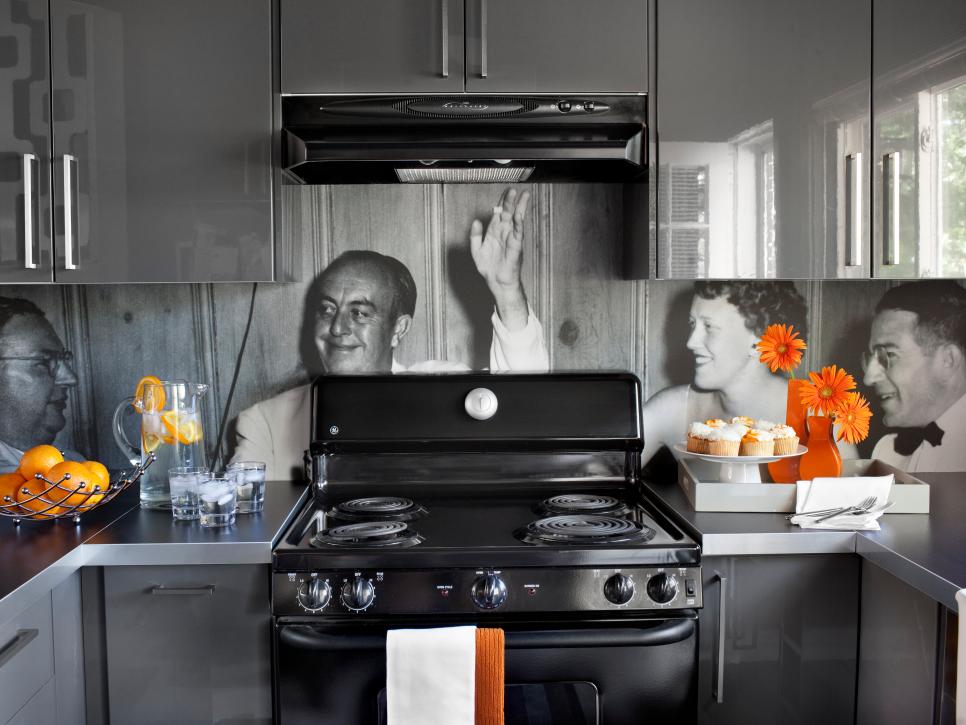 Paper: Picture Perfect
Break from tradition with a custom kitchen backsplash that doubles as a photo wall. Designer Brian Patrick Flynn gave a sentimental twist to this sleek, modern kitchen with a cutting-edge backsplash
printed from a favorite family photo. Orange accents brighten the monochromatic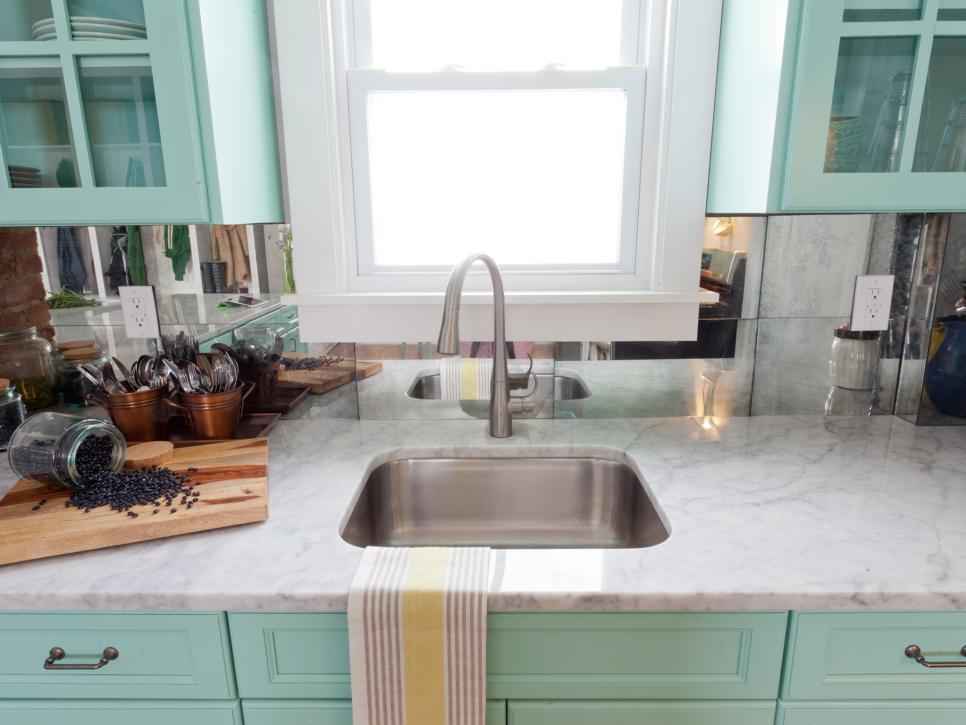 Reflective Finish: Mirror, Mirror on the Wall
This mirrored backsplash might be the fairest of them all. A small kitchen space immediately feels larger with this mirrored surface and bright white marble countertops.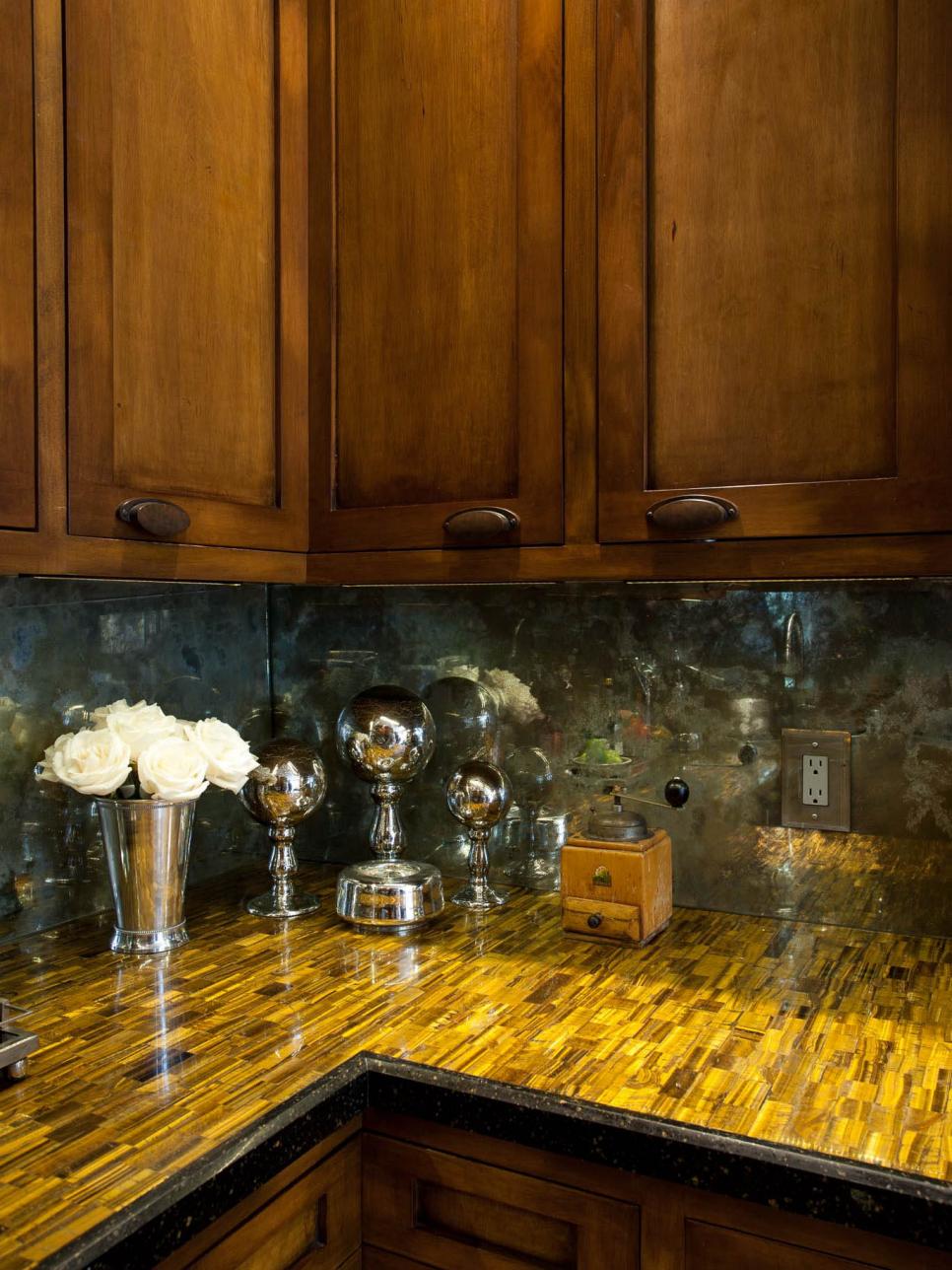 Reflective Finish: Antique Mirror
The antiqued mirror backsplash in this 19th Century Japanese kitchen has just enough reflective qualities to brighten the small space without being too distracting.
The mirror's vintage finish pairs well with custom wood cabinetry.
Budget Friendly: Coffee Beans
Featured in Blog Cabin 2014, a coffee and tea bar became the inspiration for this cozy coffeehouse design. Cast in epoxy,
this coffee bean backsplash creates an eye-catching focal point and gives texture to the wall.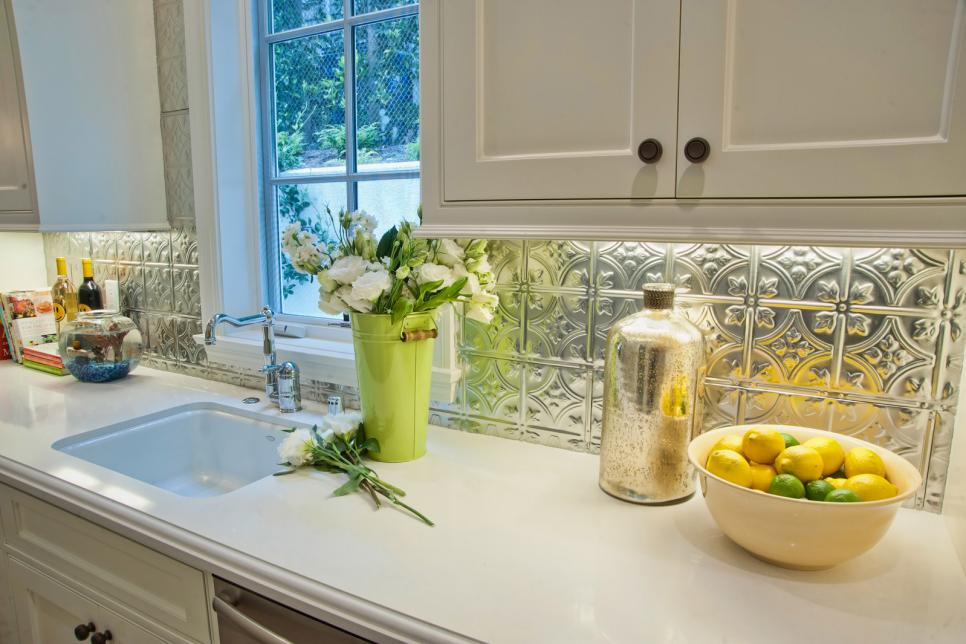 Budget Friendly: Tin Sheets
Once a traditional ceiling adornment, tin is now making its way into the kitchen backsplash arena. The tin backsplash in this white kitchen is a budget-friendly fix
that also adds visual interest. White cabinets and countertops keep the small space feeling light and open.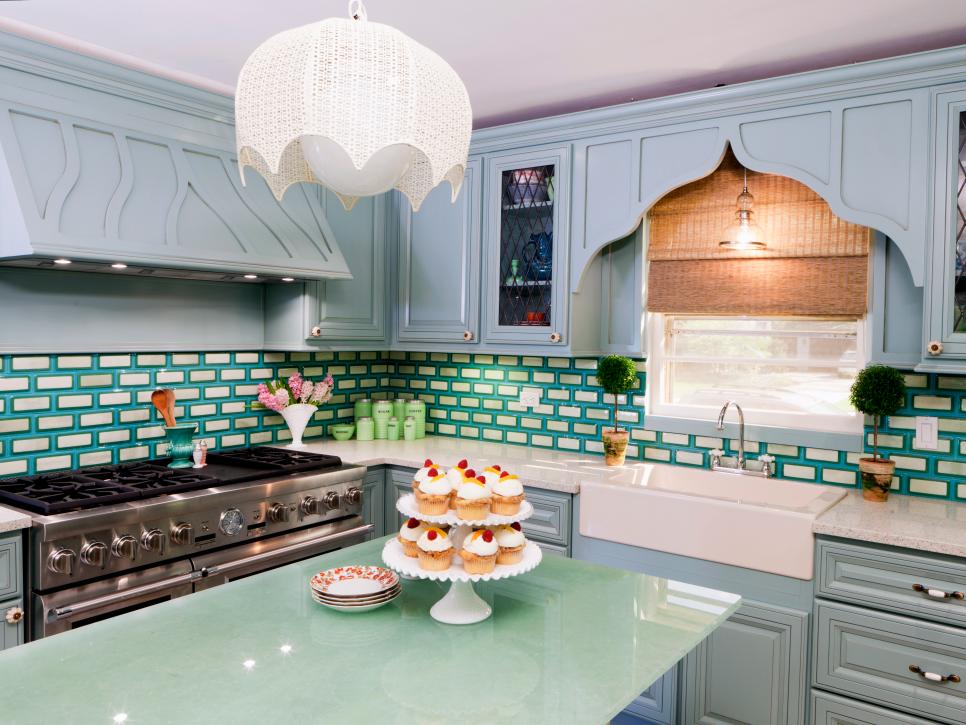 Bold Blue
Any chef would feel right at home in this colorful cottage kitchen with its bold and energetic backsplash. The custom blue cabinets in this kitchen form the
perfect background for the unique green, blue and white tile.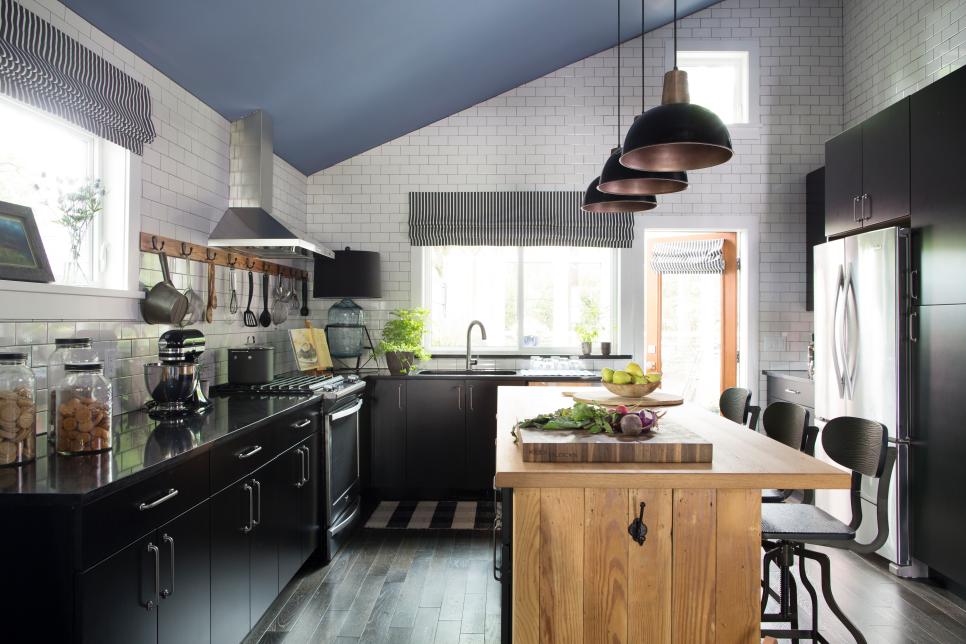 Soaring Subway
Want to make a statement with a classic white subway tile? Take it all the way up to the ceiling for a super clean finish like this kitchen from the HGTV Urban Oasis 2015.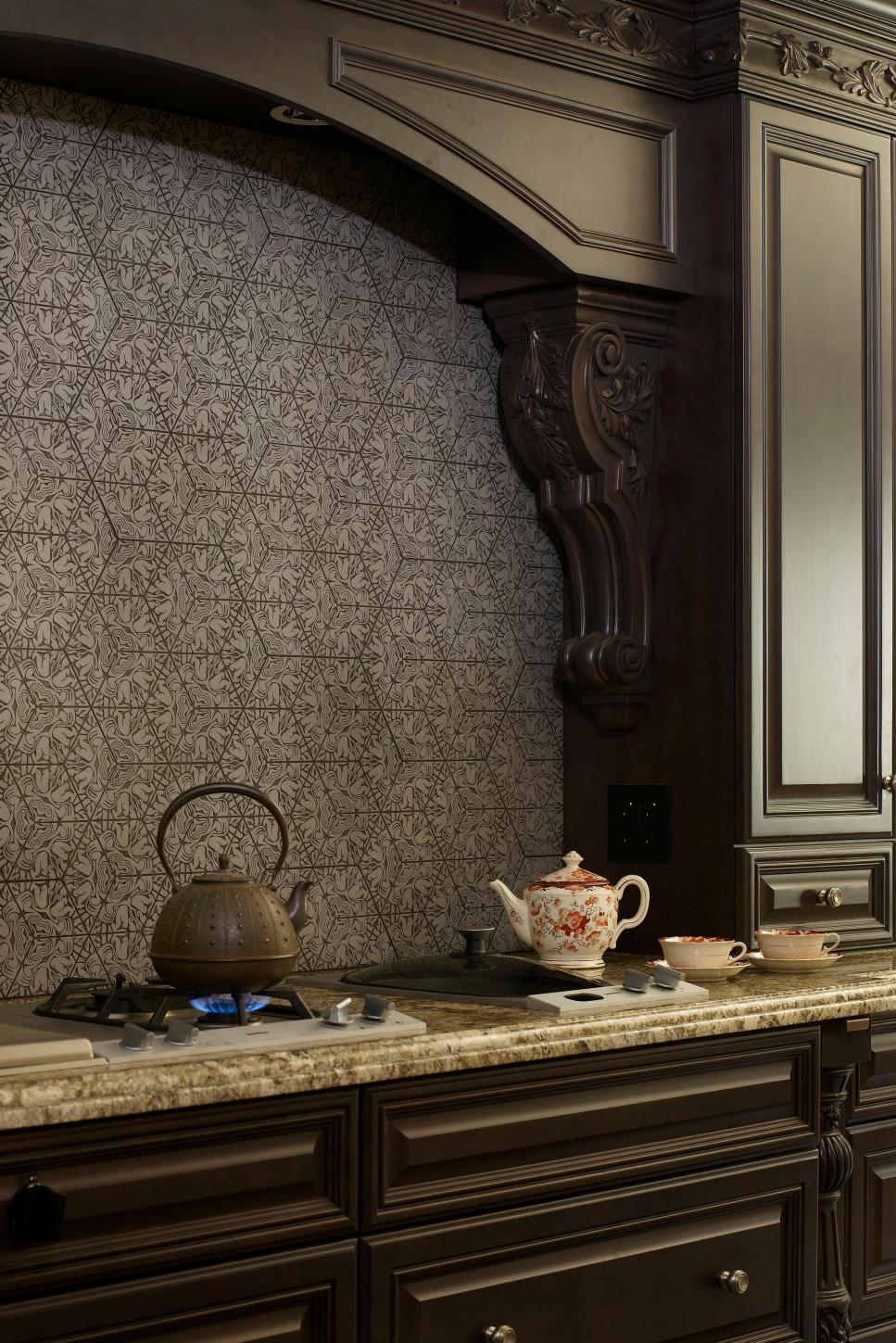 Embossed Concrete
Intricate but hardworking, an embossed concrete tile backsplash in an interlocking hexagonal pattern creates a sense of formality in the kitchen when paired with traditional cabinetry.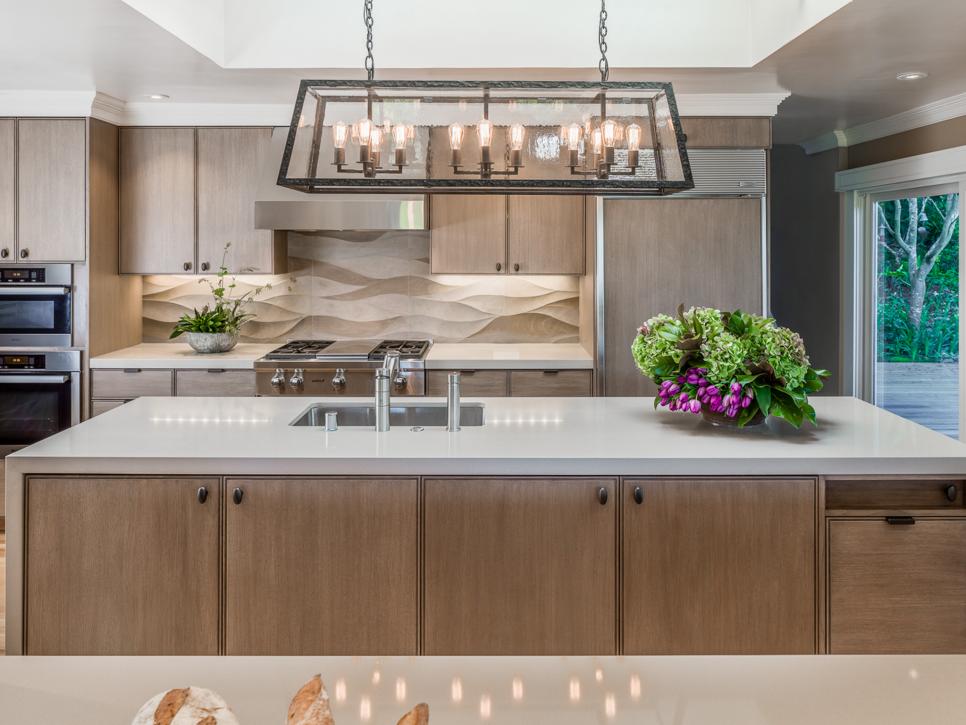 Textured Tile
This neutral kitchen is anything but vanilla where a sculptural limestone backsplash adds texture and depth to a space filled with smooth light wood cabinets and white quartz countertops.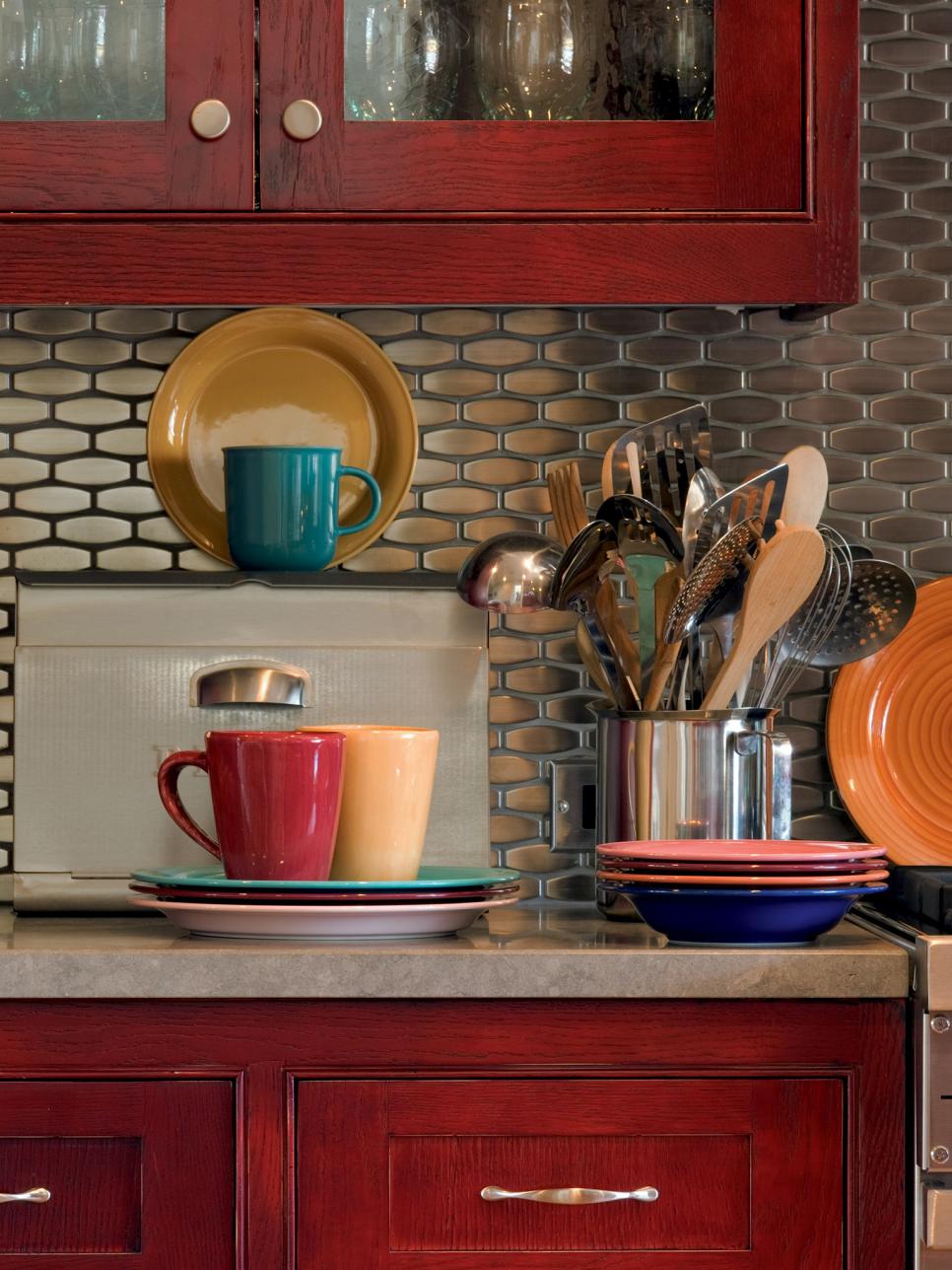 Metallics: Stainless Steel
Virtually every color plays well with this metallic kitchen backsplash. The stainless steel tile provides a modern contrast against multi-hued Fiestaware and dark red kitchen cabinets.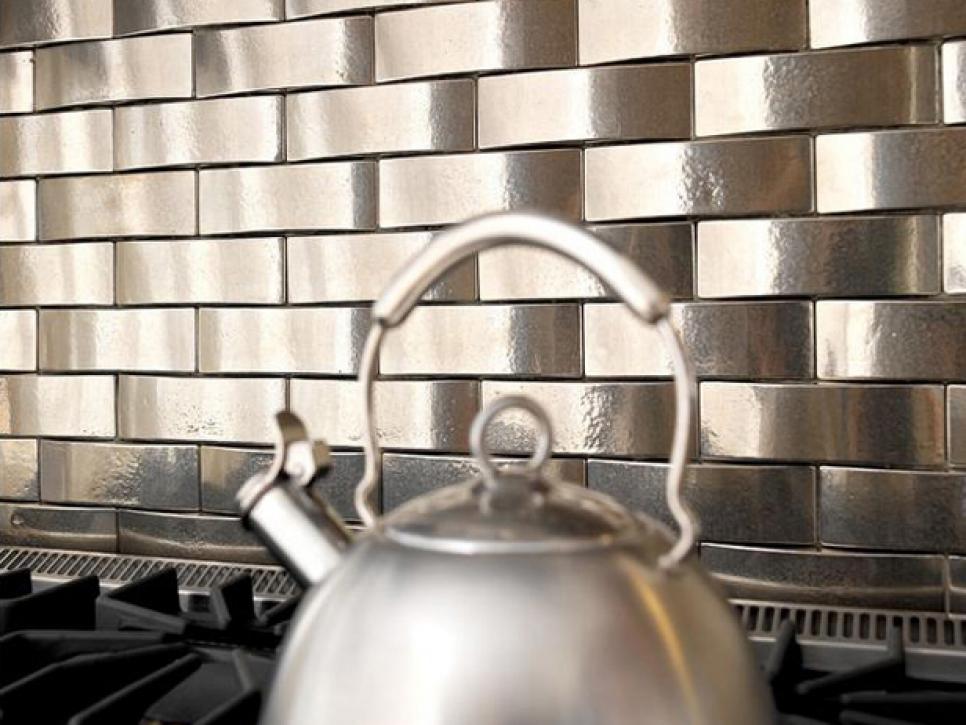 Metallics: 3-D Finished Bronze
This hip geometric design is a perfect complement for a contemporary kitchen. The white bronze tiles are finished with a light patina and extend out into the space for visual interest.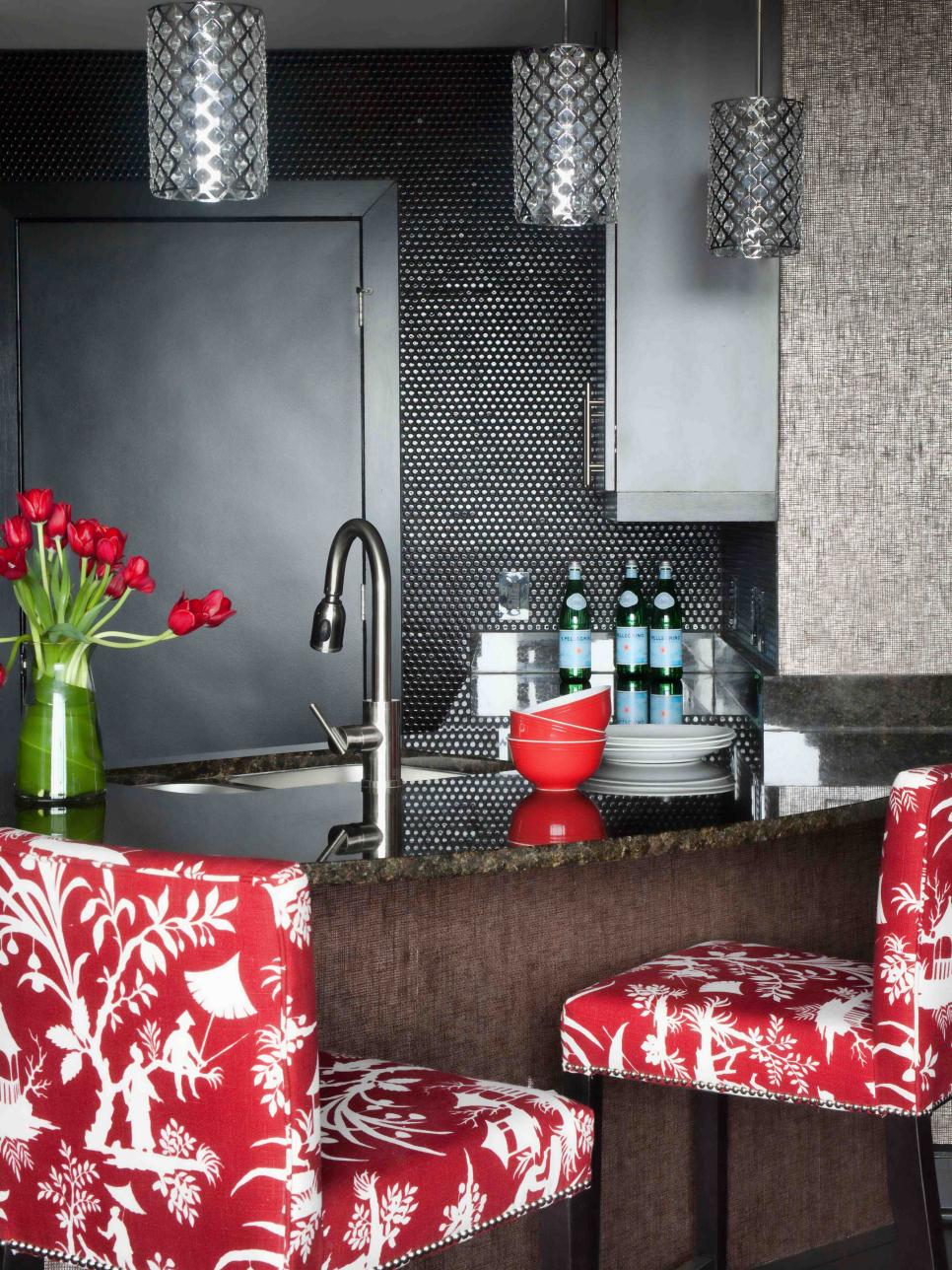 Metallics: Penny Tile
This contemporary kitchen takes a sophisticated approach to a penny-tile backsplash. Round metallic tiles pop against black walls, black door, cabinets and shiny black countertop.
The hanging lights echo the backsplash's geometric design.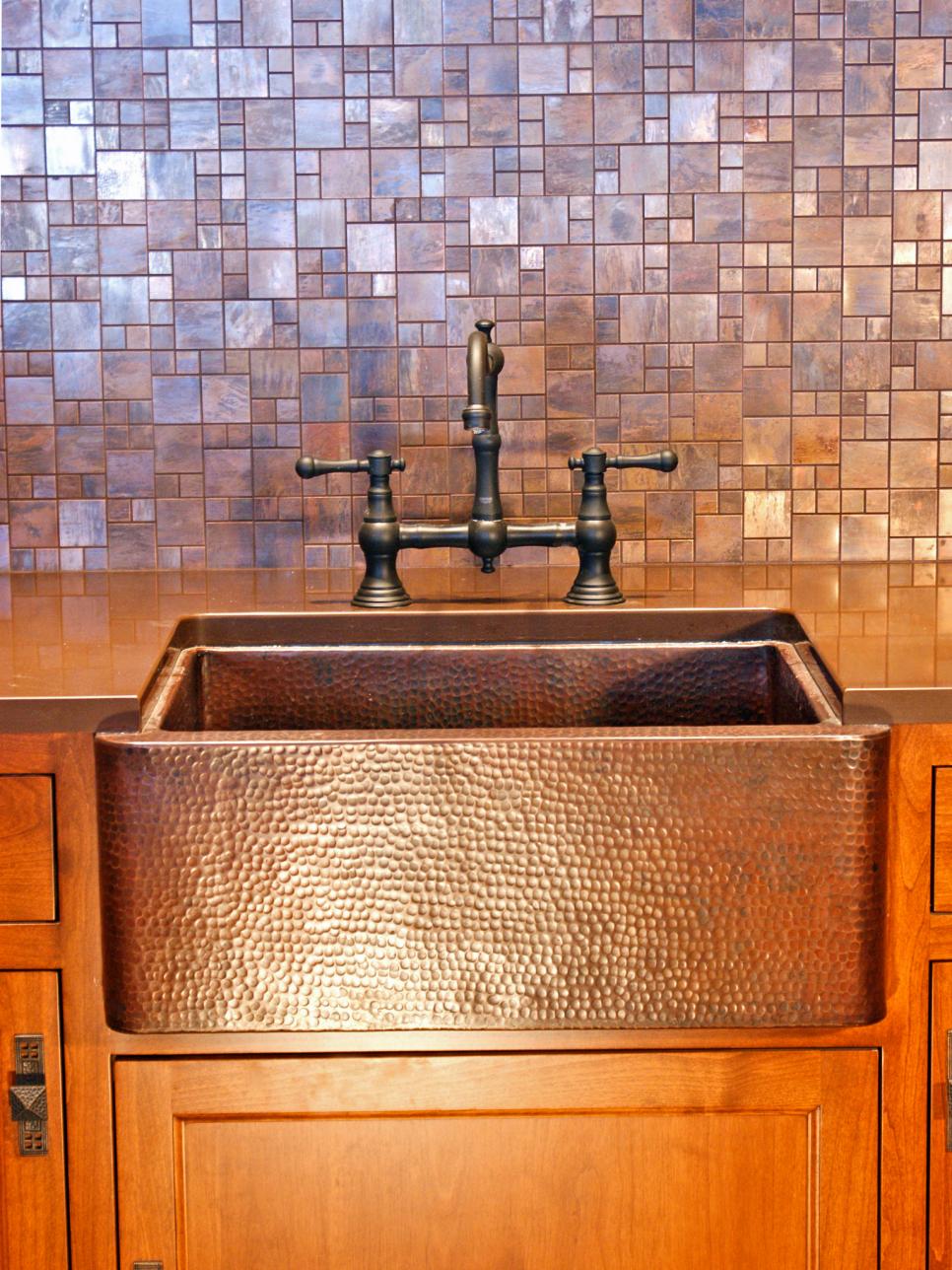 Metallics: Copper Tile
Ceramic tiles covered in a thin coating of copper comprise this backsplash by Tami Holsten of Bear Trap Design. Although there is a protective coating on top, says Holsten, "Copper is a living material, so it will naturally patina over time. In my opinion, that just makes it more beautiful." When cleaning copper, she recommends using a pH-balanced cleanser as anything acidic will damage the finish.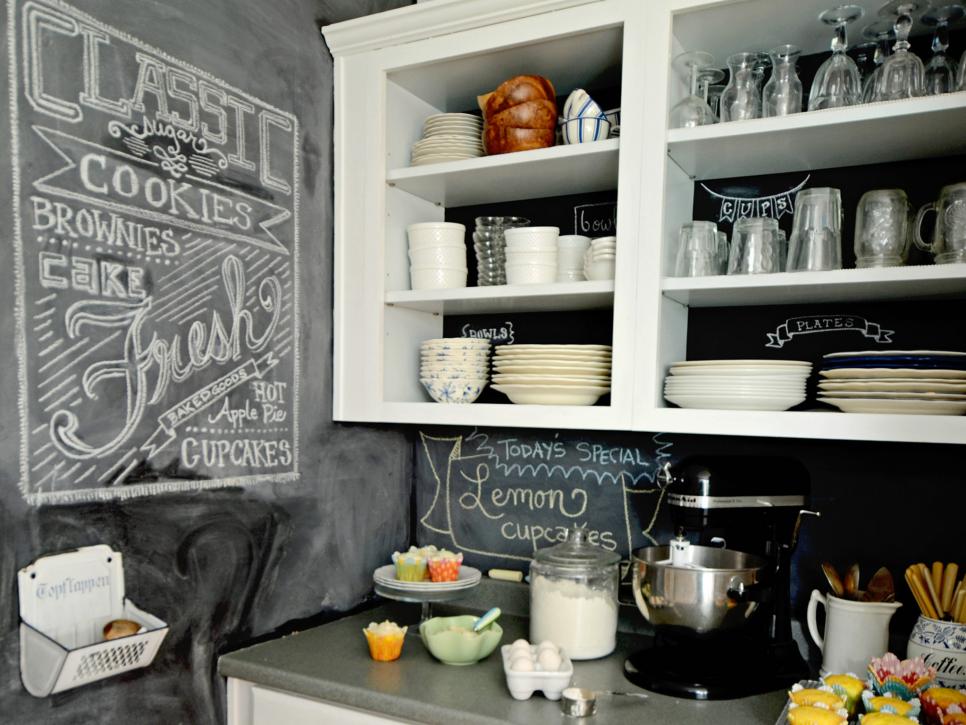 Chalkboard Paint
If you think all work and no play can make a backsplash dull, there are plenty of ways to bring a light touch into a hardworking kitchen. Here, a backsplash painted with chalkboard paint allows homeowners to keep a recipe handy, write family reminders, or just doodle. The best part? When they want to change the message — or clean things up — they just wipe the chalkboard clean.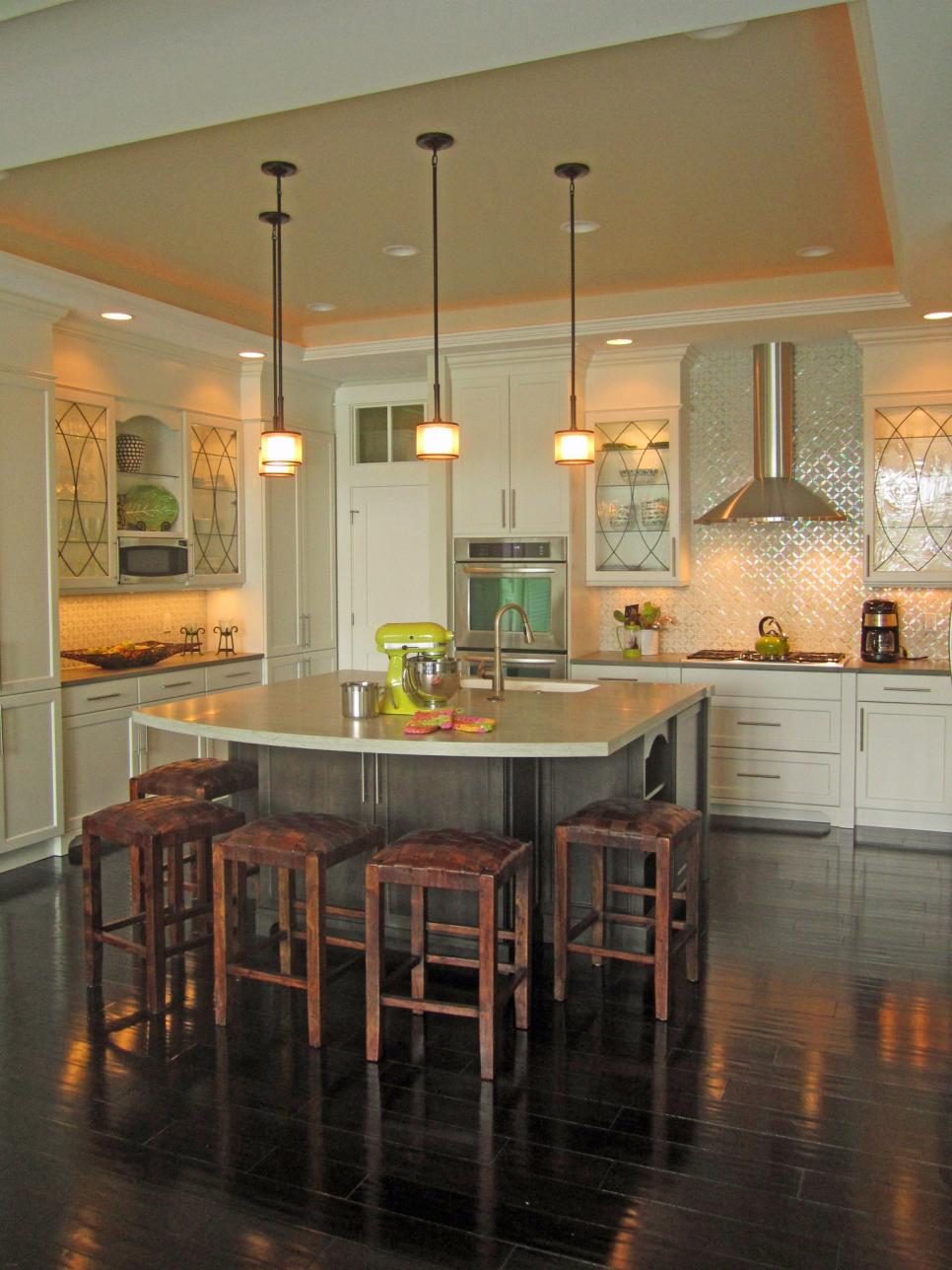 Ceramic + Glass Tile
Can't decide between ceramic and glass? This 'Island Star Mosaic' from Porcelanosa's Victorian Collection is a combination of matte porcelain and iridescent glass,
which creates subtle changes when it reflects light. Design by Nancy Blandford.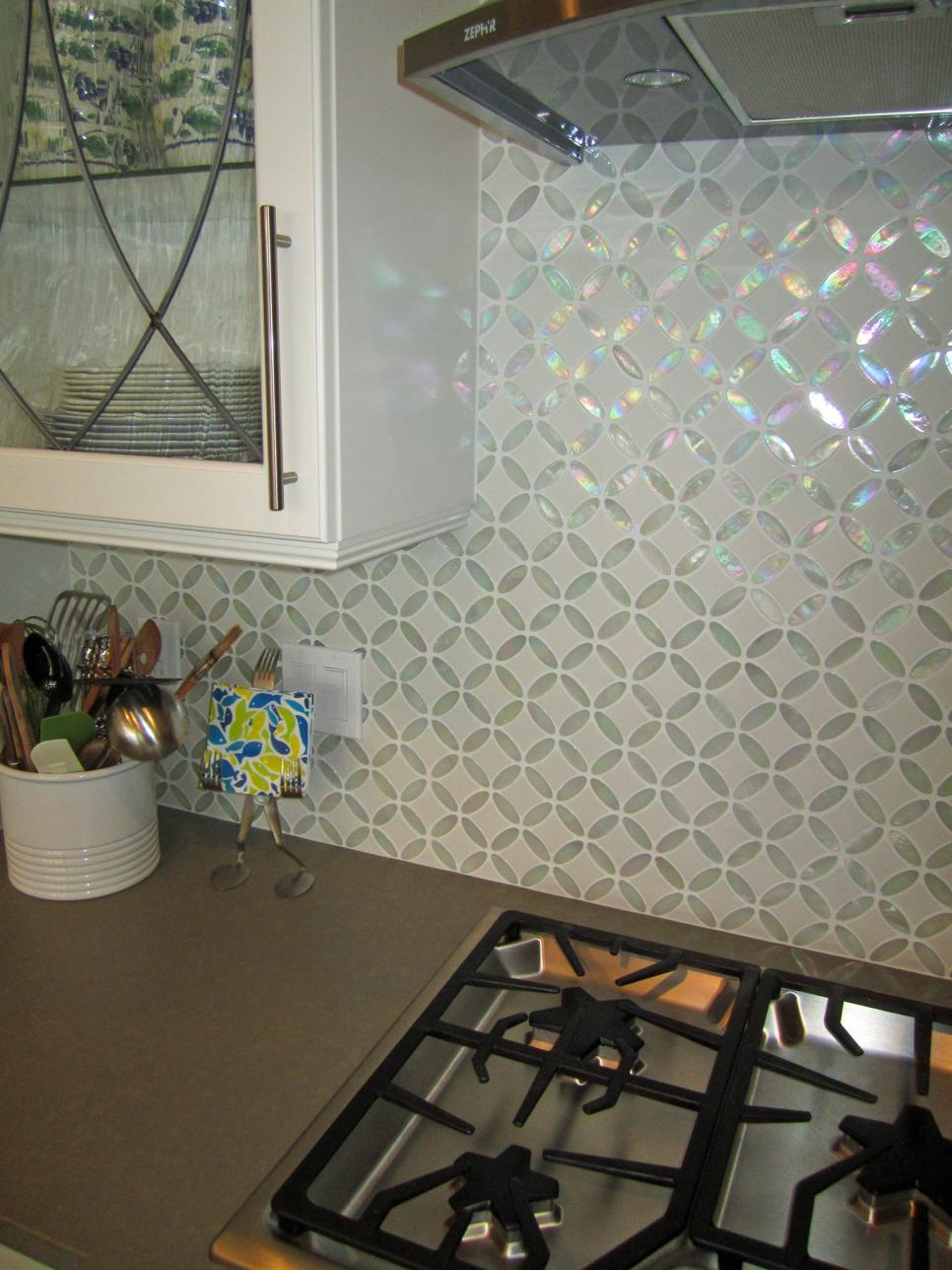 Ceramic + Glass Tile
"The kitchen is a warm, transitional style," says designer Nancy Blandford, CMKBD, ASID, "with an eclectic mix of traditional materials.
The blacksplash serves as the perfect way to tie together distinct elements, including glass doors, an unusually-shaped island top and the range hood."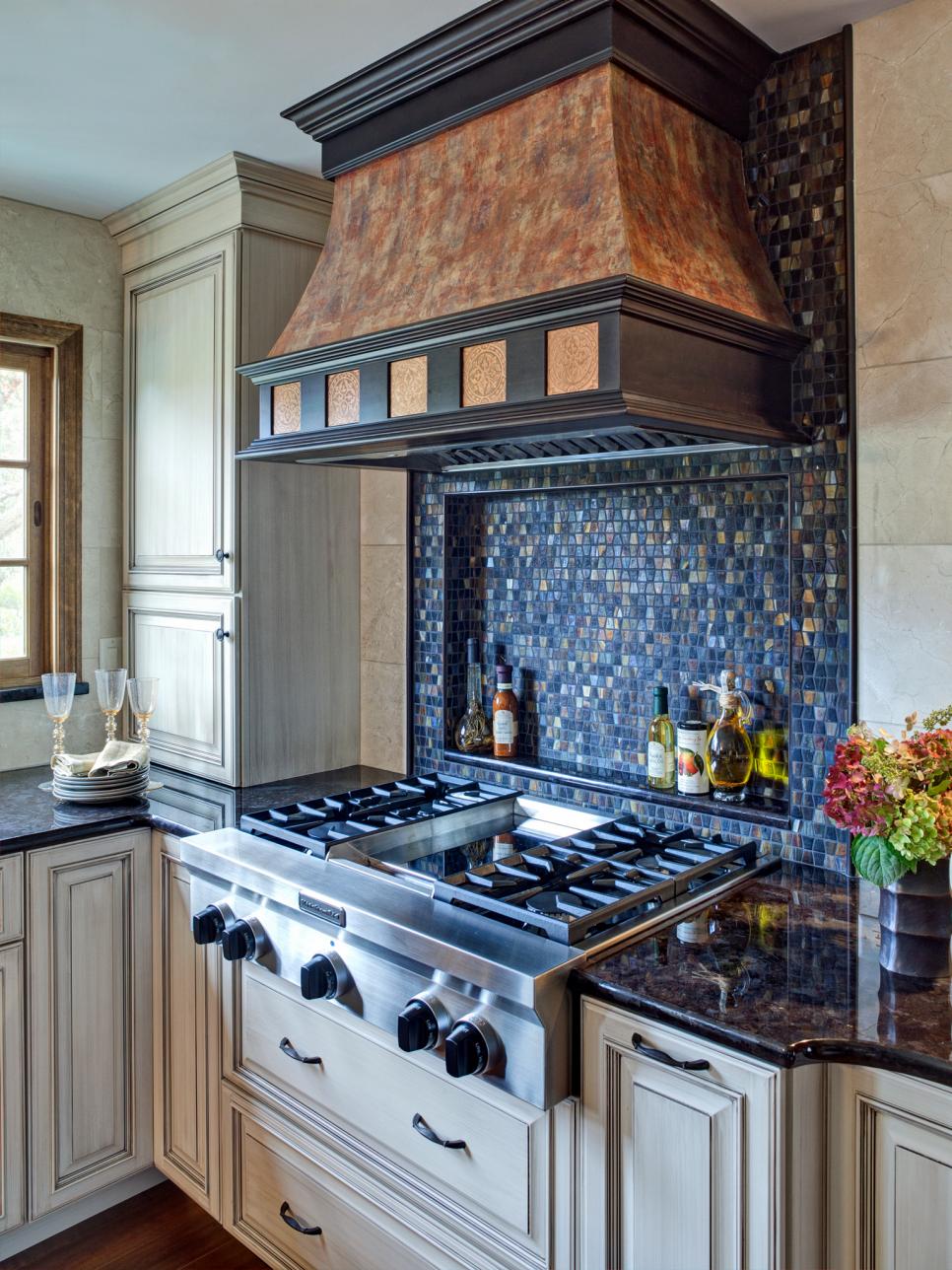 Limestone + Glass Tile
In this kitchen, the mix of materials was created not by a tile manufacturer, but by the designer. Brigitte Fabri, CMKBD, of Drury Designs, wanted to create a "castle wall" effect in this kitchen,
without detracting from the room's focal point — the copper hood. For most of the backsplash, she chose a large scale 12×24 'Crema Marfil' limestone because the larger the tile, the fewer distracting grout lines,
she explains. And behind the range, she used a honed glass tile called 'Malaga Cove Wings' by Stone & Pewter. To add the illusion of greater height to the 8-foot ceilings,
Fabri brought the tile down as close to the range as she could and elongated the niche area all the way up to the hood itself.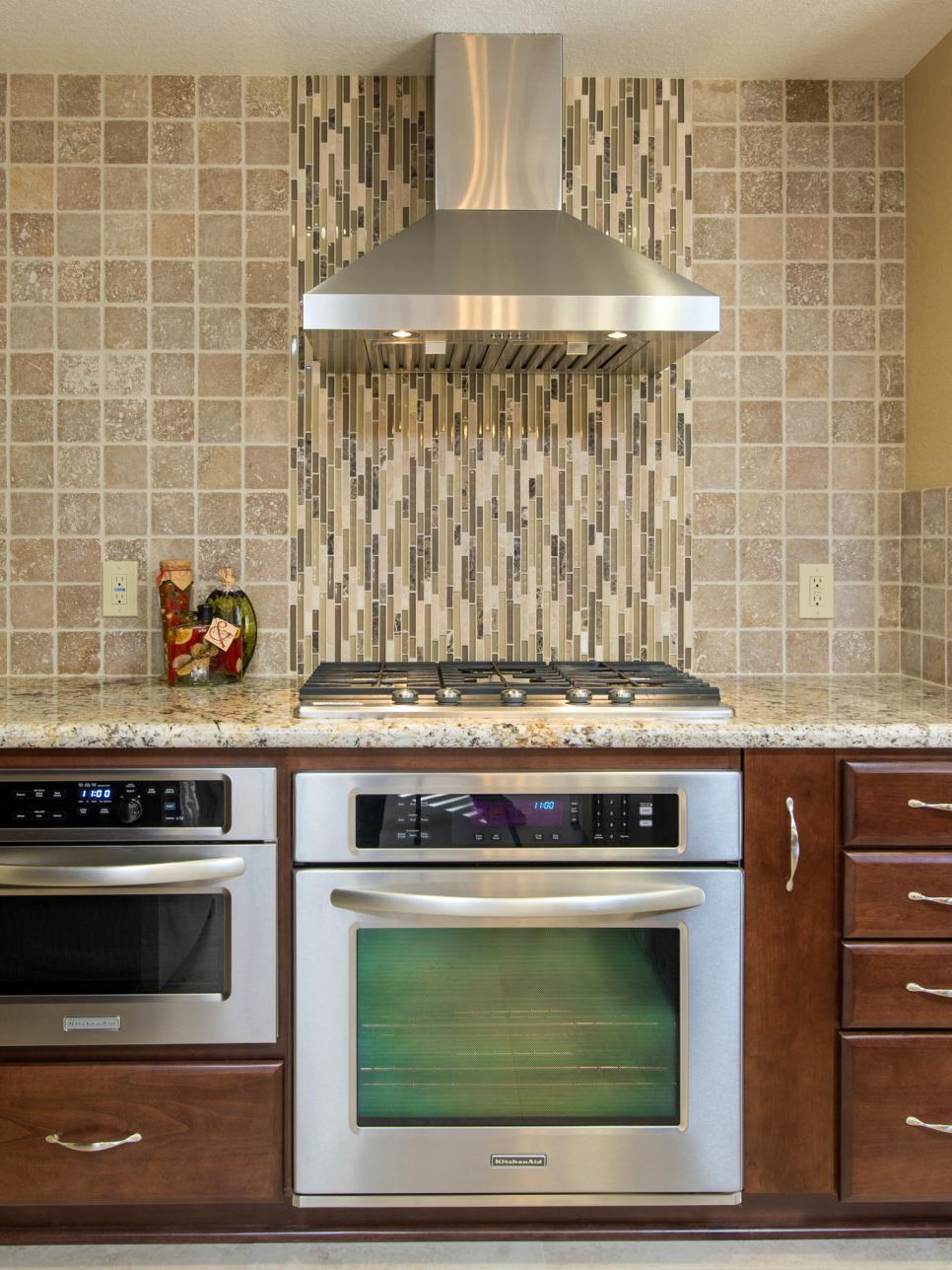 Tumbled Stone + Glass Tile
Another gorgeous mixed-media backsplash: Here, glass is mixed with today's popular natural stone. To ensure that this kitchen byRemodelworks looked distinctive, the client installed glass tile behind the range to accent the 4×4 tumbled stone tile that makes up most of the backsplash. Then, interior designer Dixie Lovejoy came up with the idea of turning the tile vertically, so that it looks like a waterfall or rising steam.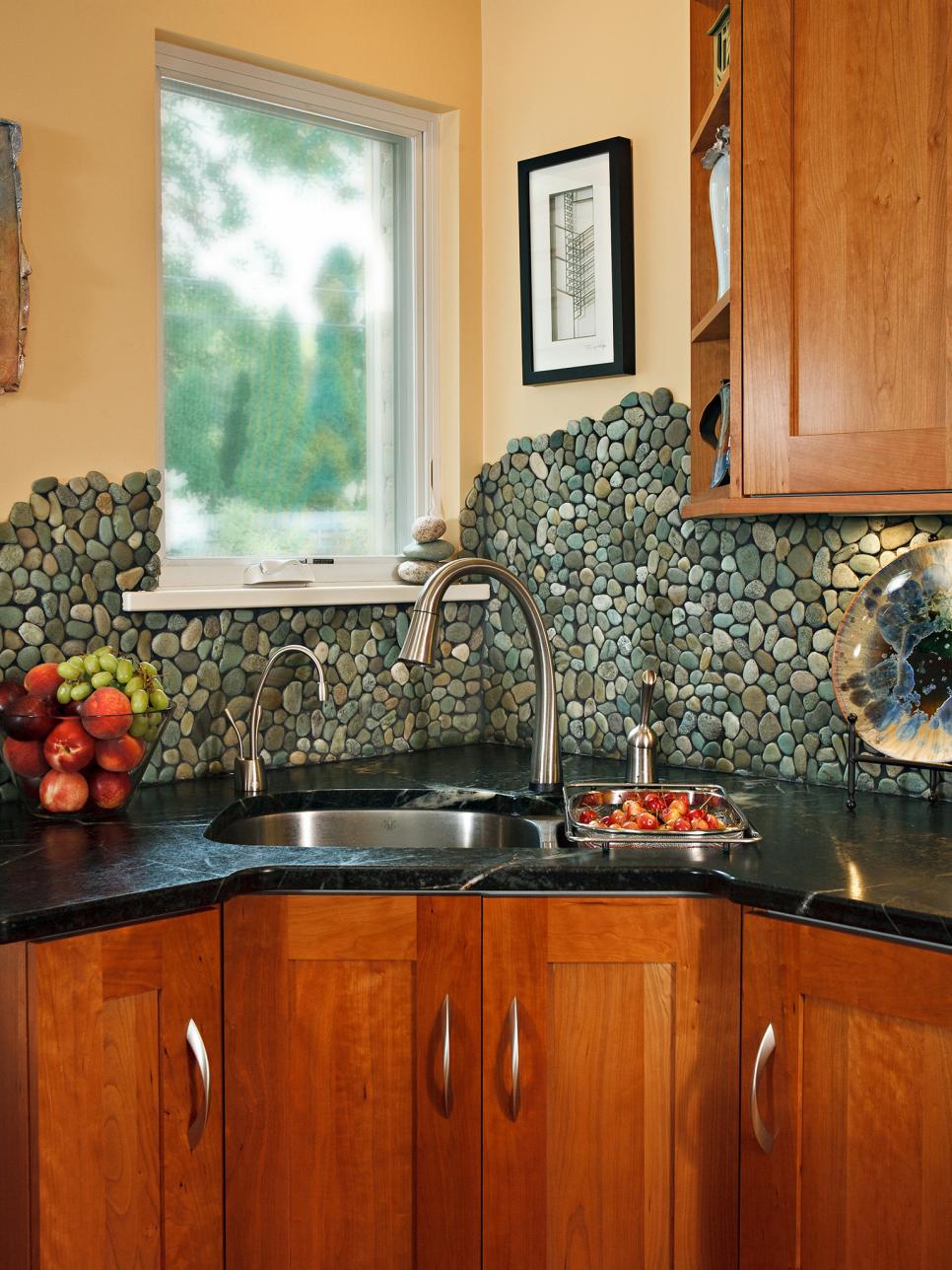 tone: River Rock
Although the most common use of these river rock pebbles is actually shower floors, photo stylist Chris Walker and her husband came up with the idea of using them as a kitchen backsplash. They asked their kitchen designer John Petrie, CMKBD, president elect of the National Kitchen and Bath Association, to install it on the walls. "The one-of-a-kind, free-flowing edges of the pebbles not only mimic the flow of soft teal veins in the dark green soapstone countertops," says Walker, "but also balance the vertical lines of the Shaker-style cabinet doors." Lesson learned: when you're shopping for backsplash materials, ask the vendor to show you floor tiles, as well. While not every product will adapt well to vertical application, you may hit upon an unusual — and easily implemented — idea.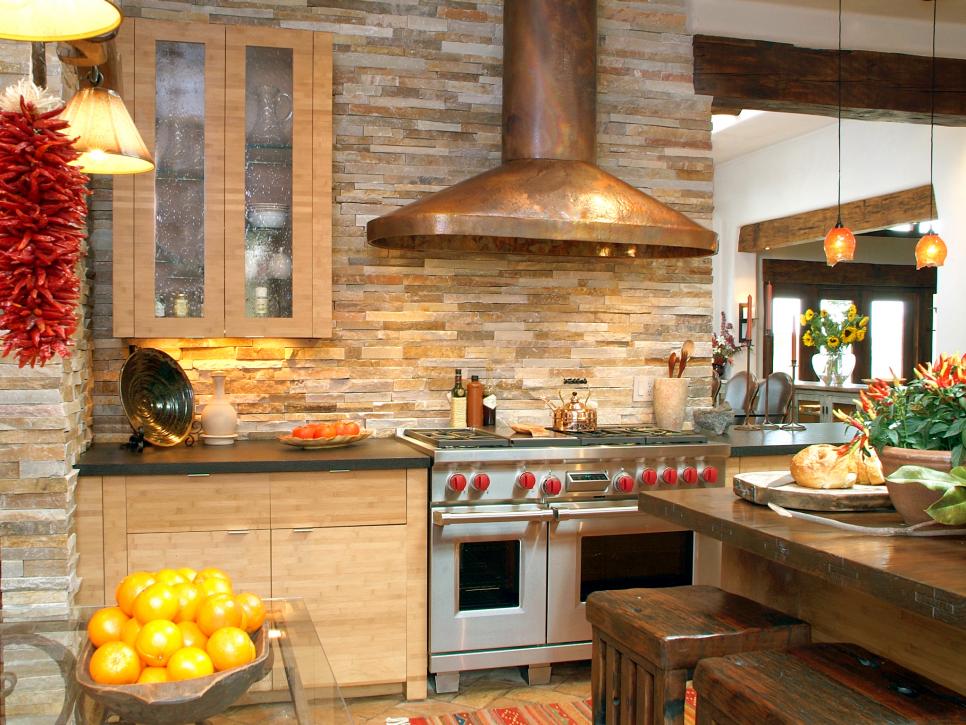 Stone: Quartzite Sandstone
This textured, rustic backsplash makes it look as if this kitchen byHamilton-Gray Design is fully constructed of stone. But, in fact, the quartzite material actually comes in pieces that are applied just like tile,
making it a viable choice even in a home with plaster or sheetrock walls.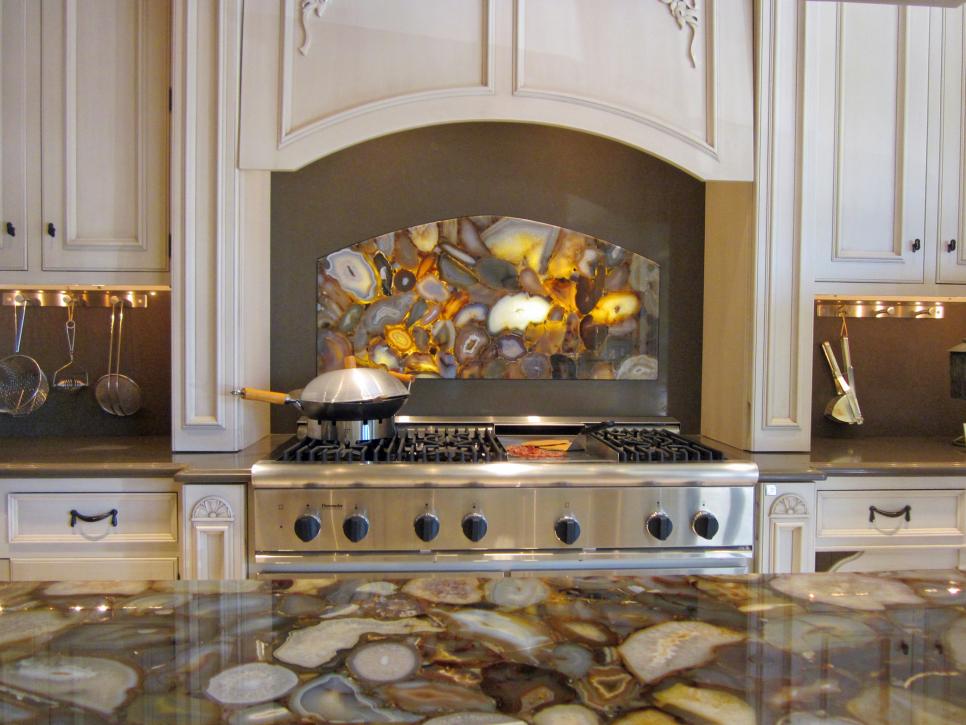 Stone: Translucent Agate
Rustic not quite your style? Stone can be sleek and dramatic, as well. This backsplash by Eurotech Cabinetry Inc. features backlit 'Concetto' — a translucent product fabricated of natural agate. The remainder of the backsplash is 'Blue Lagos' Caesarstone. Hanging storage rails suspended from it to the right and left of the stove provide handy access to cooking tools.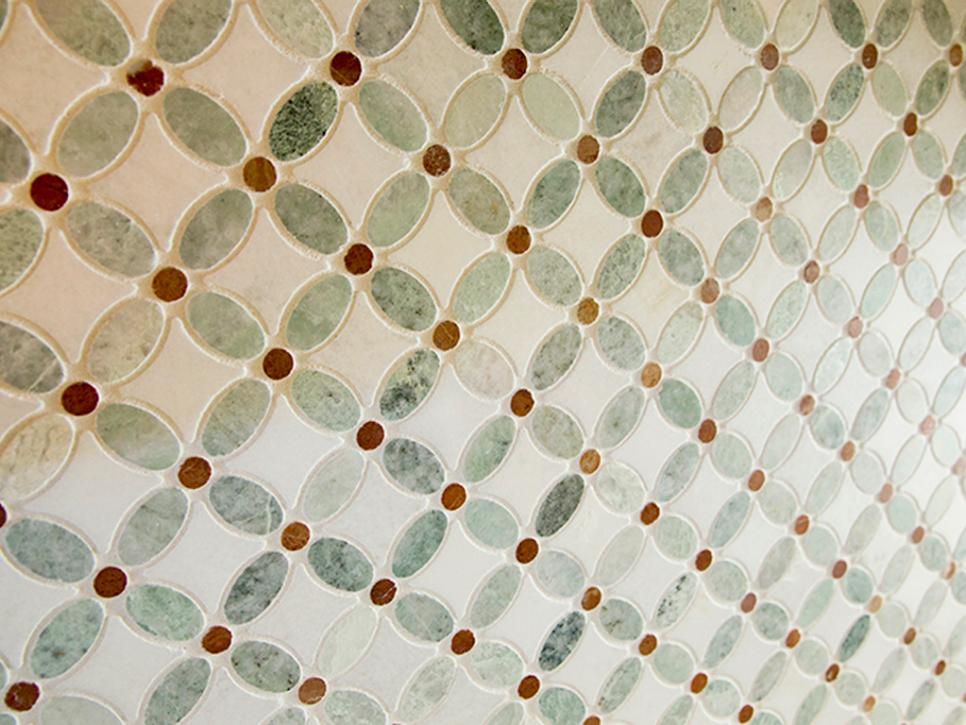 Stone: Marble Mosaic
Like glass, stone can be cut and carved into various shapes for backsplash tile. The tile Jamie Florence Designs used here looks like a mosaic but comes in easily installed 12 x 12 sheets.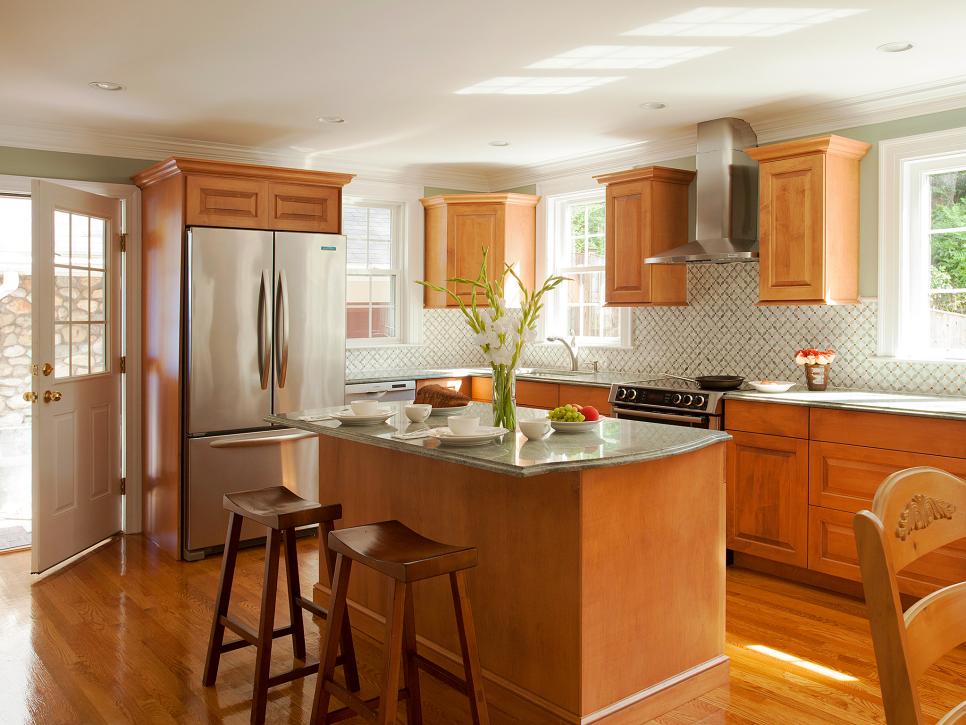 Stone: Marble Mosaic
The imperfections and color variation of the stone create interest — offering the same natural uniqueness of marble slabs with the added appeal of a geometric design.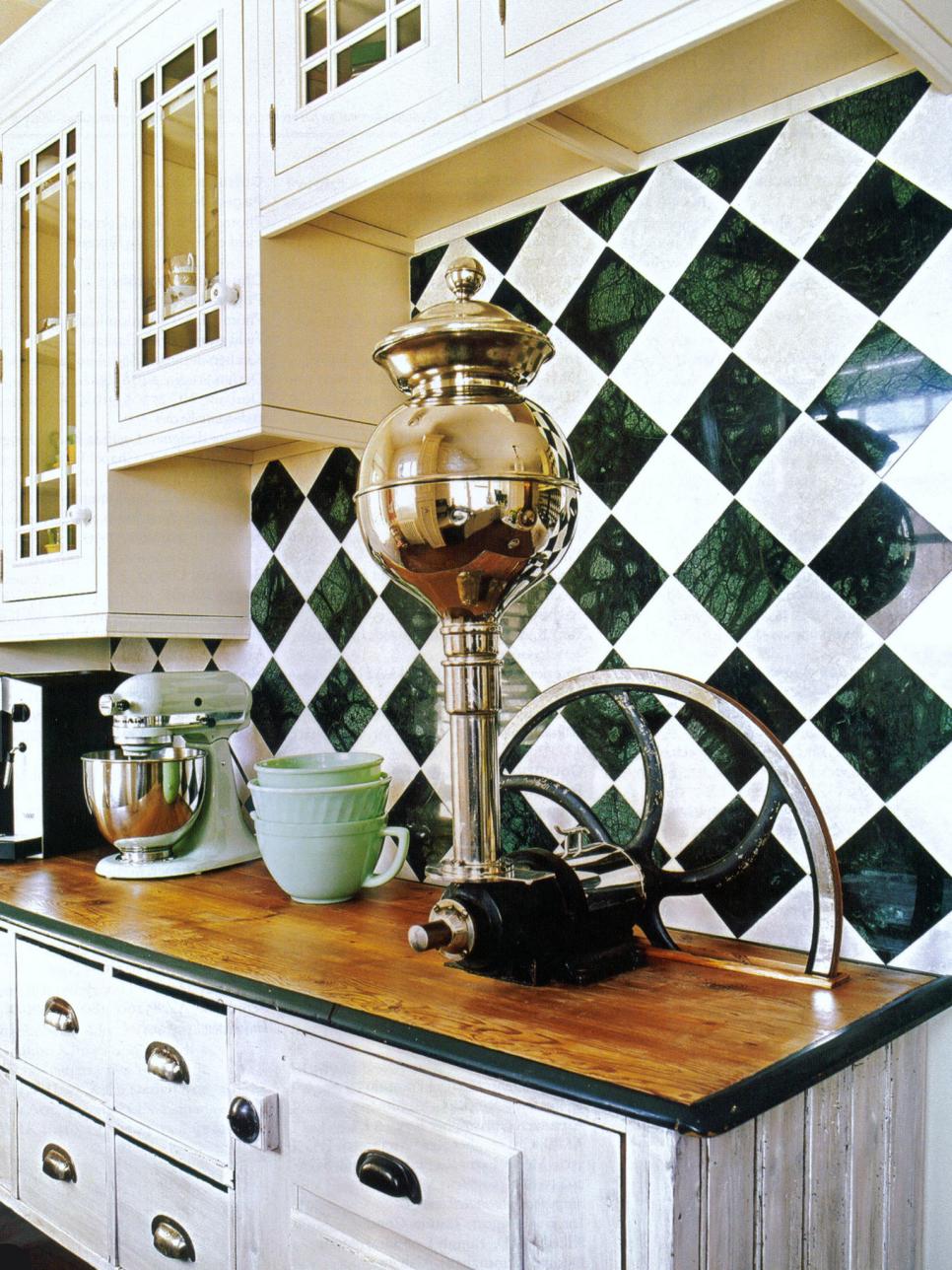 Stone: Marble Checkerboard
If you don't find marble tiles in the exact sizes and shapes you want for a backsplash, marble can be custom cut. To bring in some of the lush green landscape beyond the large windows of this home, designer Eileen Kollias, CKD, cut green and white 12-inch marble tiles into 6×6 squares with chamfered edges. The tiles are laid in a harlequin pattern than brings a bit of whimsy into this elegant home, and serves as a dramatic backdrop for prized pieces such as the homeowner's antique coffee grinder/coffee storage cabinet.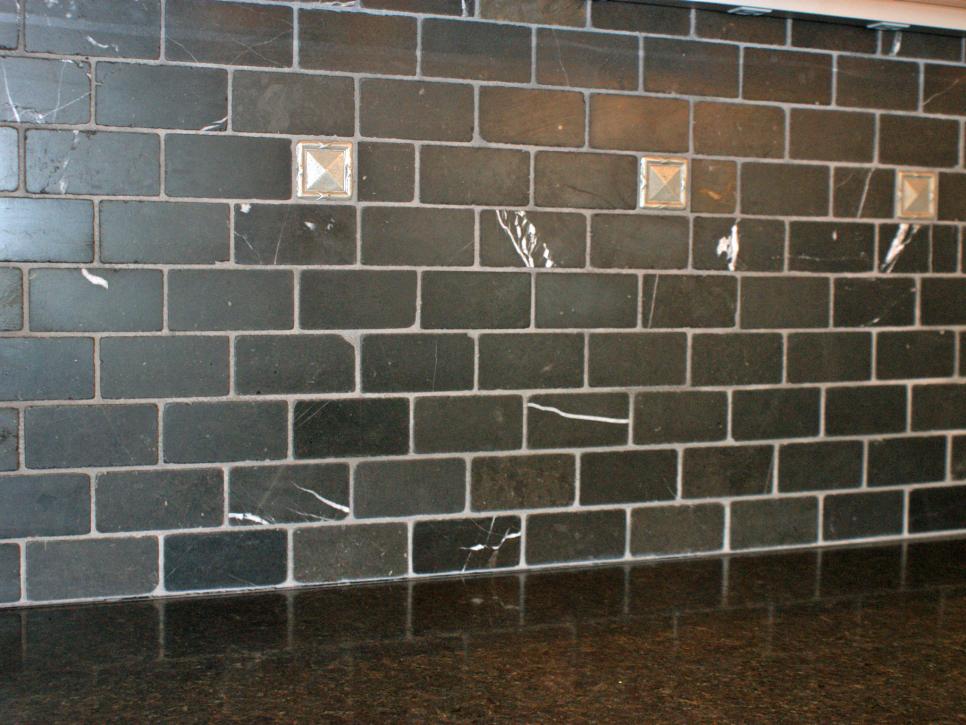 Stone: Honed Marble
Tami Holsten of Bear Trap Design chose the 'Toros' black marble that surrounds this kitchen for its dramatic contrast with the soft white cabinets. "The white veining — which is what distinguishes marble from granite — instinctively draws people in for a closer look, and provides the rustic character I was looking for in this kitchen," says Holsten. Two-inch-square cast-metal tiles add a warm, rich feel.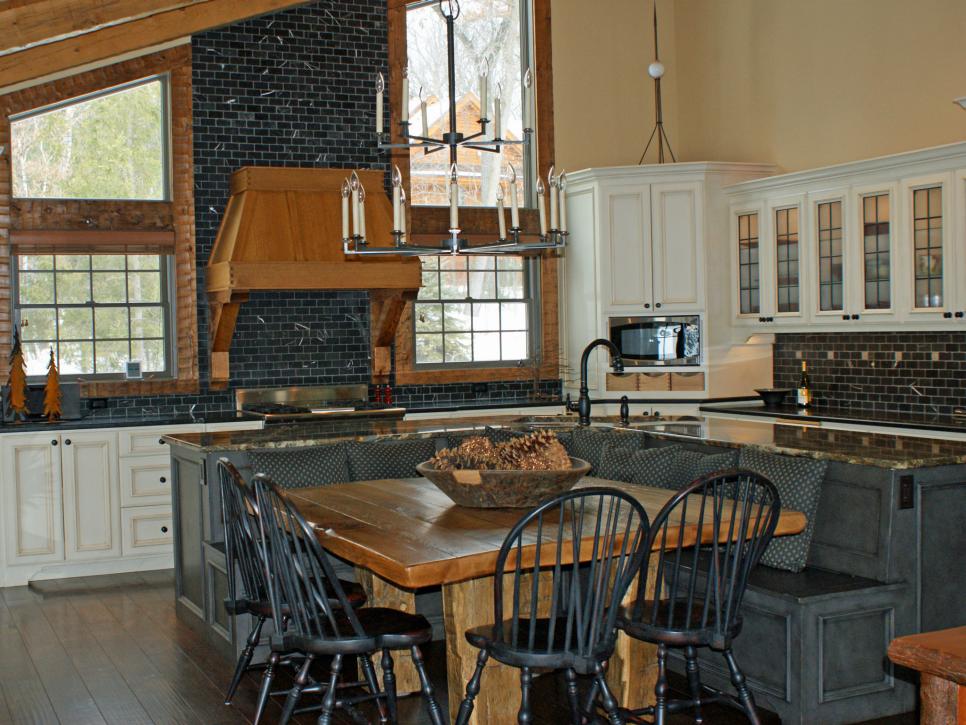 Stone: Honed Marble
Designer Tami Holsten laid the tiles in a classic brickwork pattern and ran the backsplash high up on the wall,
providing a large backdrop for the dramatic stove hood made partially from a large oak tree from the property.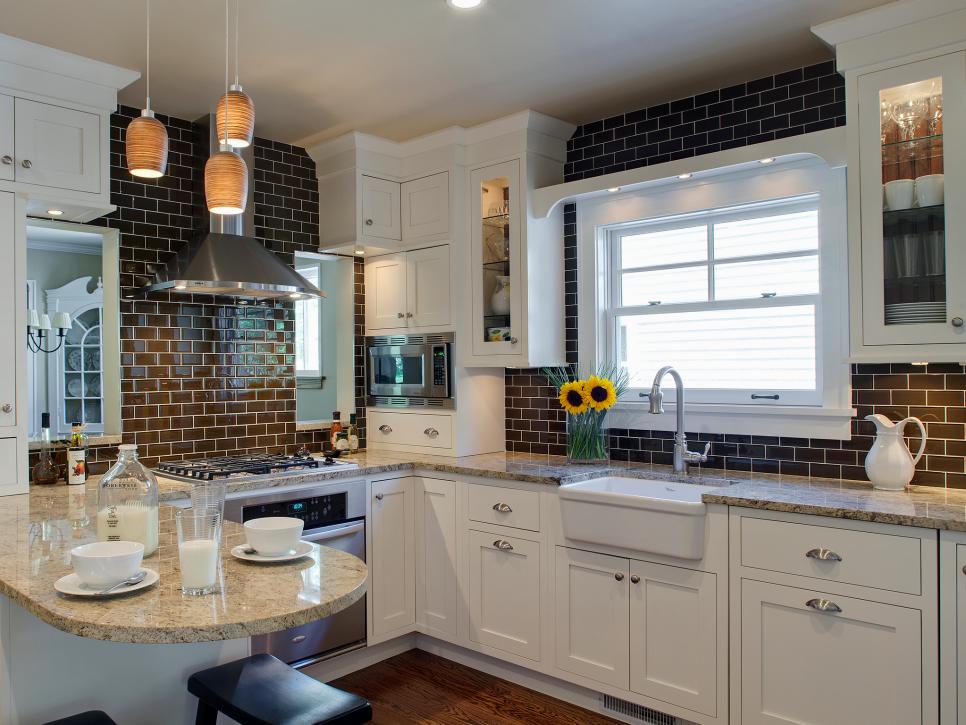 Pattern: Brickwork
Familiar as it is, a brickwork tile scheme can look fresh — if the tile itself is eye-catching. The kitchen pros at Drury Designs chose this brown subway tile to add contrast to an all white kitchen
 and to make the space appear larger, because the glass tile reflects light. Running the tile all the way up the wall also adds dimension to the space by drawing the eye upwards.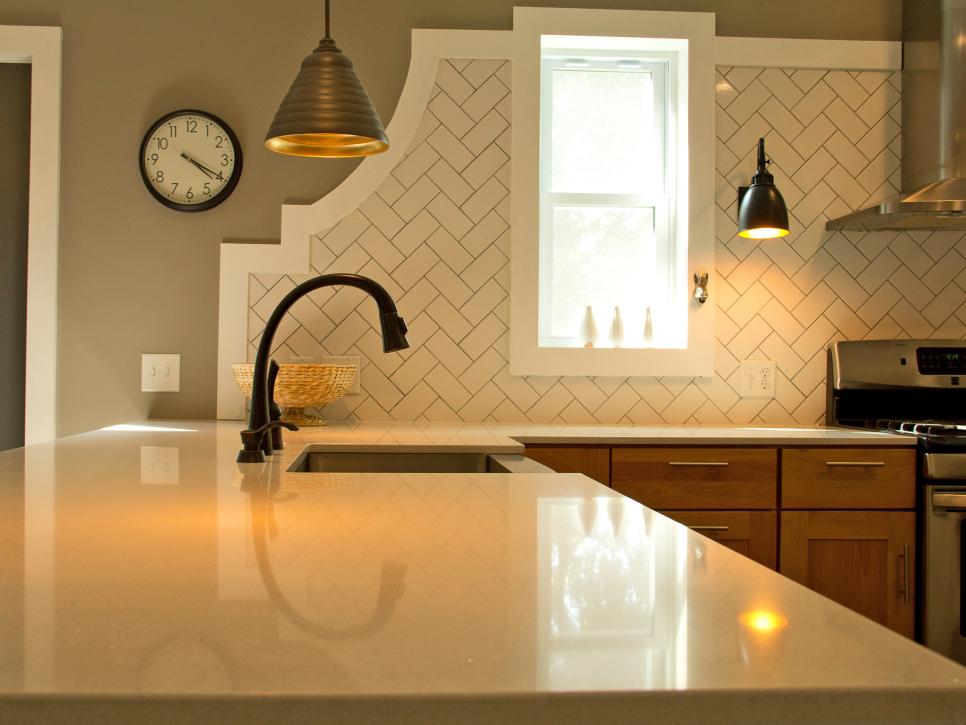 Pattern: Herringbone
While the array of unique — and expensive — tile available today is vast and appealing, you don't need to spend a lot of money to achieve dramatic results. Kitchen designer Jodie Gould, AKBD, used basic subway tile for the backsplash in her own kitchen, but laid it in an eye-catching herringbone pattern, and designed an unusual shape for the edge. "We thought it might look weird to just have the tile end on a straight line since there's so much on that wall," says Gould, "So we drew a curve on some MDF and put some molding together on site. It was actually very easy and very inexpensive."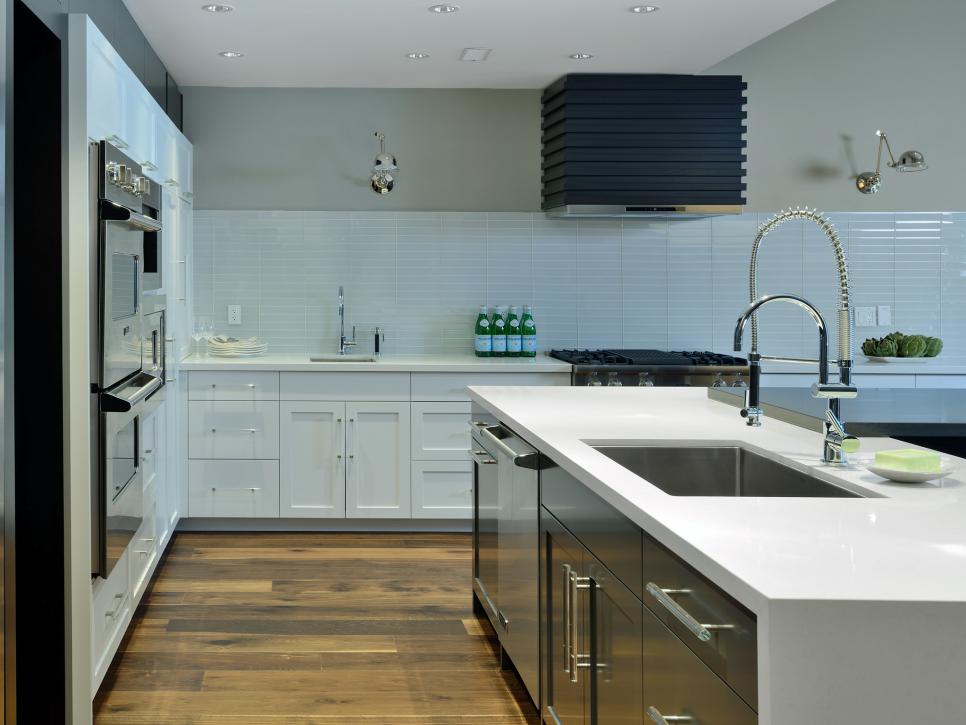 Pattern: Stacked Columns
But of course, there's more than one way to lay out rectangular tiles. Rather than stagger these glass tiles brickwork-style, designer Nathalie Tremblay of Atelier Cachet chose to stack them in neat columns. The long, low dimensions of 2×10 white glass rectangles — and the fact that they run only partway up the wall — lend additional horizontal focus to the kitchen's sleek, low profile design.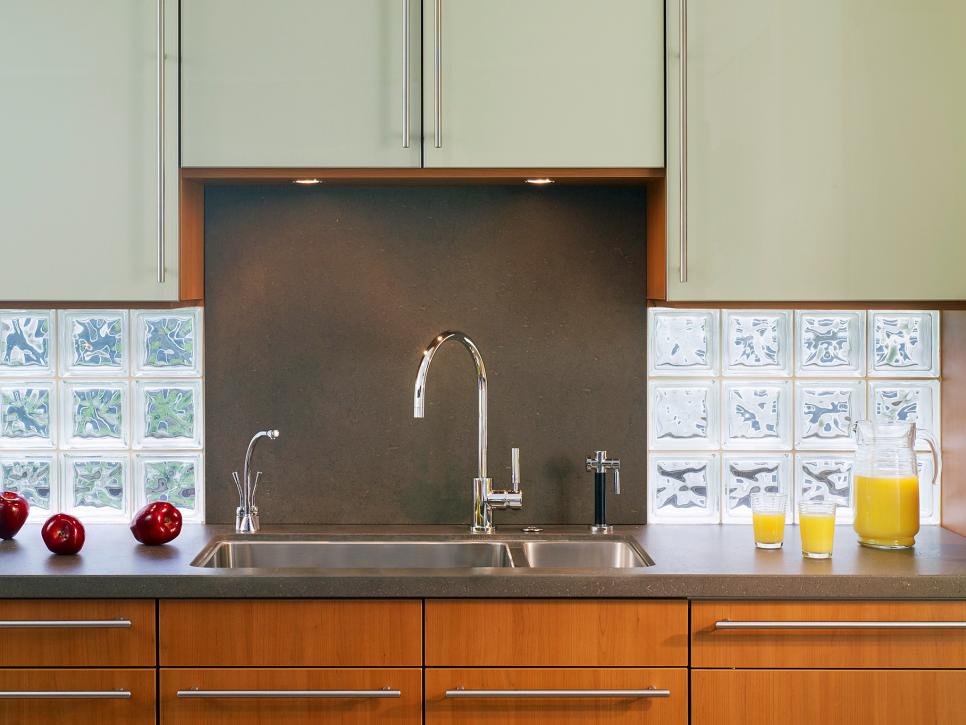 Unusual Materials: Volcanic Rock
In addition to reflecting light, glass backsplashes can actually bring sunshine into a kitchen. The vistas beyond this kitchen were nothing to write home about, so designers at Carnemark installed detail-obscuring glass blocks on either side of the stove's backsplash, which is made of volcanic rock by SieMatic. Quarried in Italy, this stone is similar to that used by the ancient Romans to build roads, and has been used for various surface applications from building cladding to tile to countertops for centuries.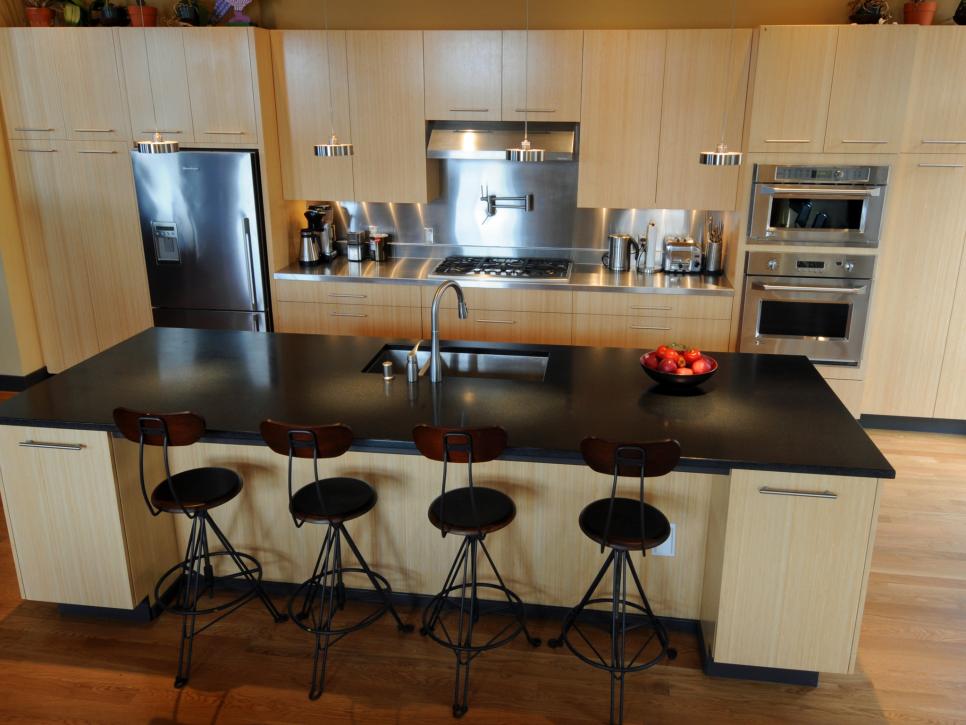 Unusual Materials: Industrial Steel
If the thought of using familiar materials in a new way appeals to you, consider industrial steel. As part of the contemporary/industrial look designer Tom Lutz, AKBD, was asked to create for a client's kitchen, he installed a backsplash of 20-gauge stainless steel — the same material used in restaurants and hospitals. Using the steel as a backsplash rather than a horizontal counter surface, Lutz notes, makes it less likely to become scratched (although the material will still develop some wear and tear over time, especially if ceramic-bottom pots repeatedly rub against it.) To keep the steel from separating from the wall behind it or damaging the adjacent cabinets, Lutz cut the metal larger than needed and tucked the margins behind them.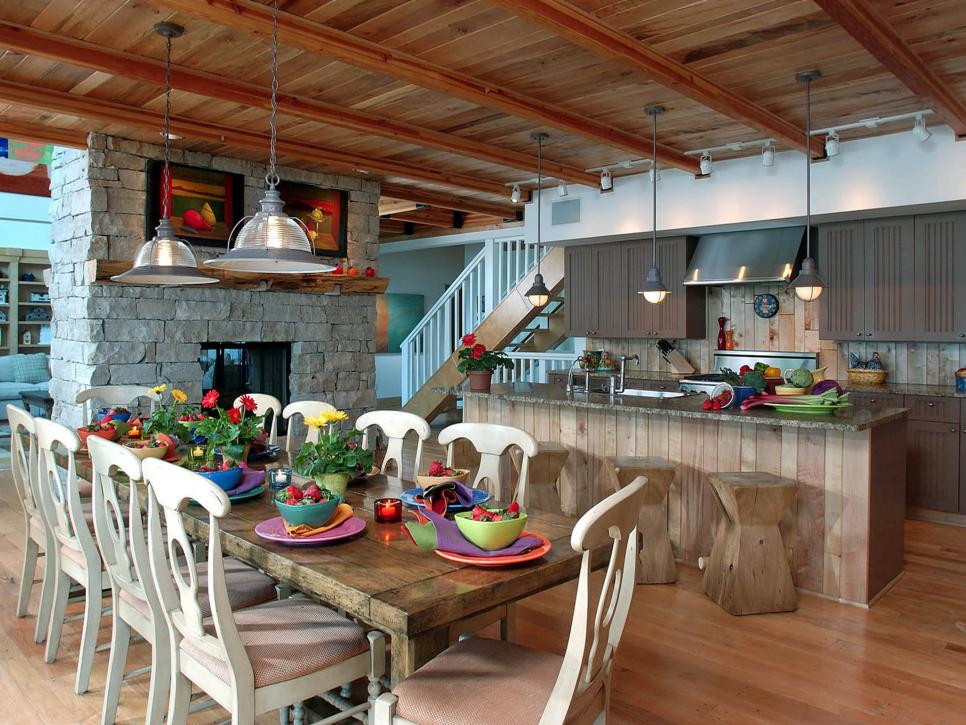 Unusual Materials: Indigenous Wood
Like steel, wood is a familiar material than can be made to look entirely fresh in a backsplash application. The sugar maple wood of this backsplash by Susan Fredman
was harvested right on the property of this beach house in Michigan. "I really prefer to use only wood that can be grown where it resides," Fredman says.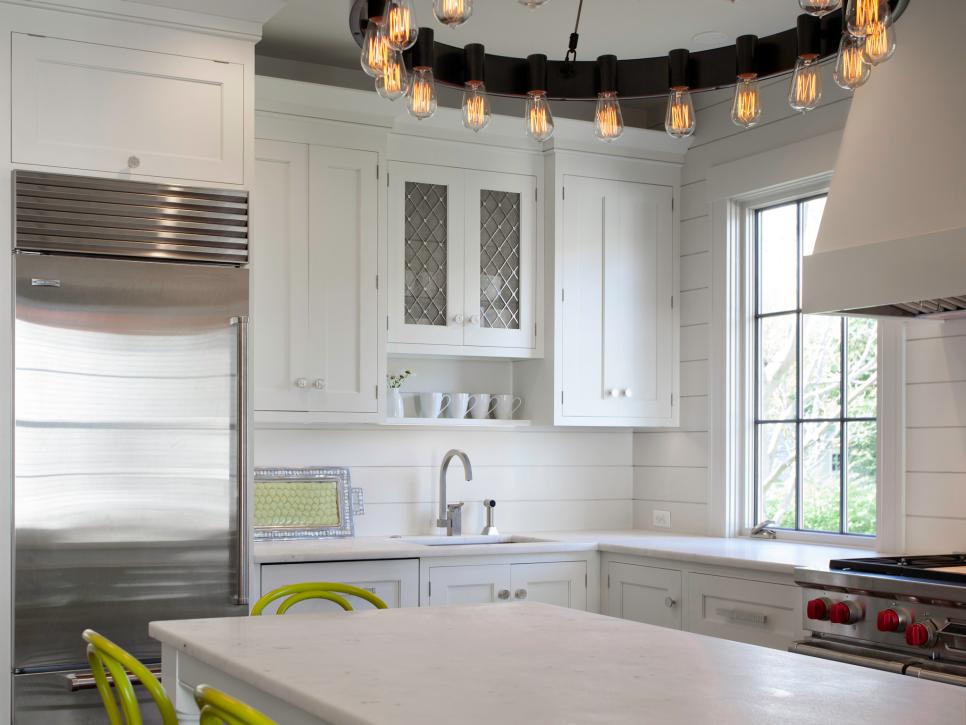 Unusual Materials: Repurposed Plywood
If you don't want to harvest new wood for your backsplash project, you can take your cue from Karen Swanson of New England Design Works, who had her contractor rip sheets of found plywood into 6-inch-wide planks, and install them 3/8″ apart on the walls of this kitchen. This resourceful backsplash — a modern interpretation of shiplap paneling, Swanson explains — is painted with Benjamin Moore Satin Impervo paint, which makes it stand up well in a kitchen. "Painted plywood is not as 'bullet proof' as some other backsplash choices one could make," Swanson concedes. "I would suggest wiping up spills quickly and not allowing standing water next to this — but then again, I also suggest that with a tile and grouted backsplash."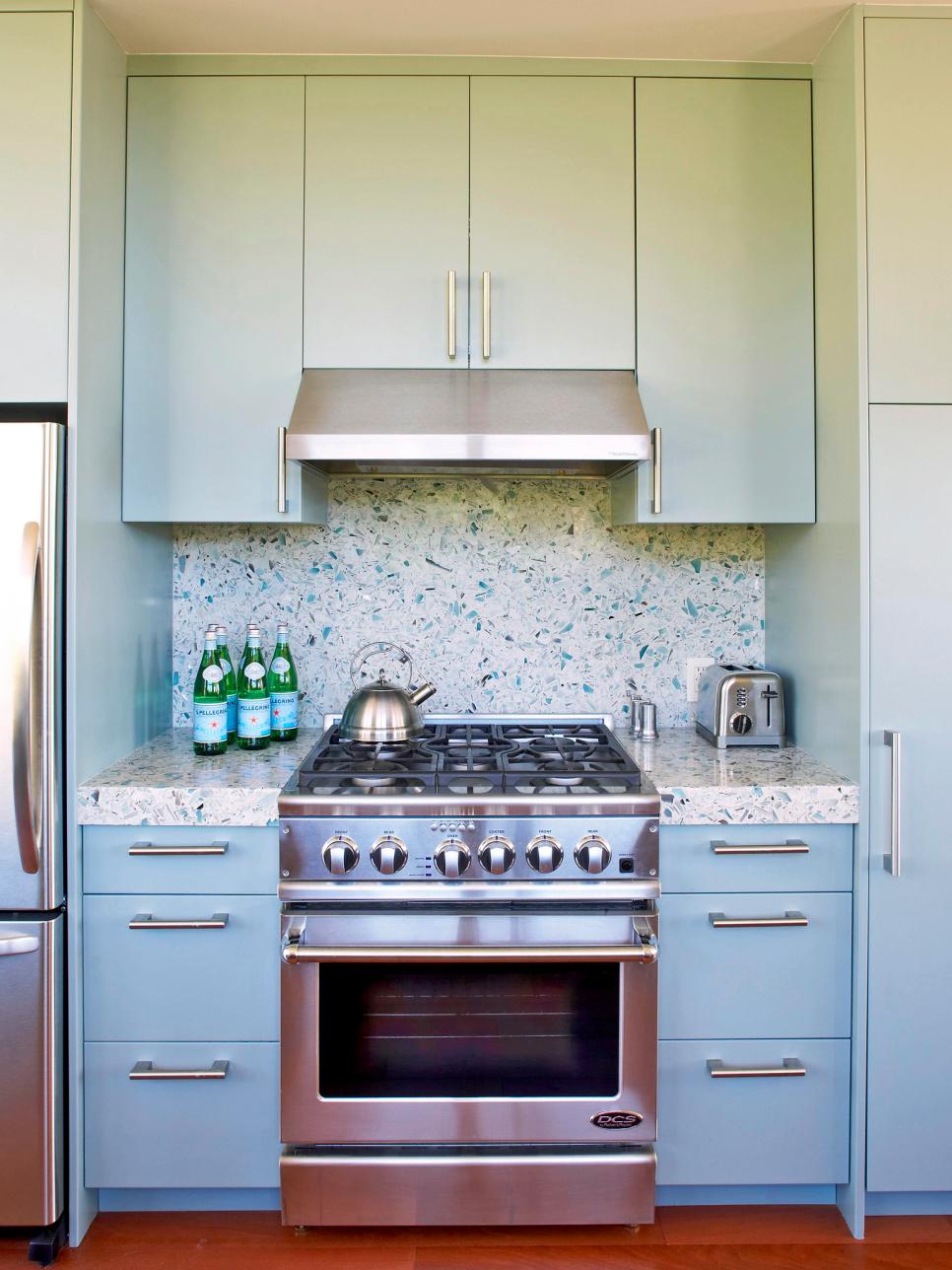 Unusual Materials: Recycled Glass
Another great example of design that reduces, reuses and recycyles: The backsplash and counters in this Bay Area kitchen by Massucco Warner Miller are Icestone terrazzo, made locally in Berkeley, CA, of concrete with flecks of recycled bottles and glass. In addition to being eco-friendly, Icestone is extremely durable — a great material, MWM's Julie Massucco notes, for houses where there are avid cooks, small children and messes in general. Because of its sea glass colors, this terazzo would be especially lovely in a beach house.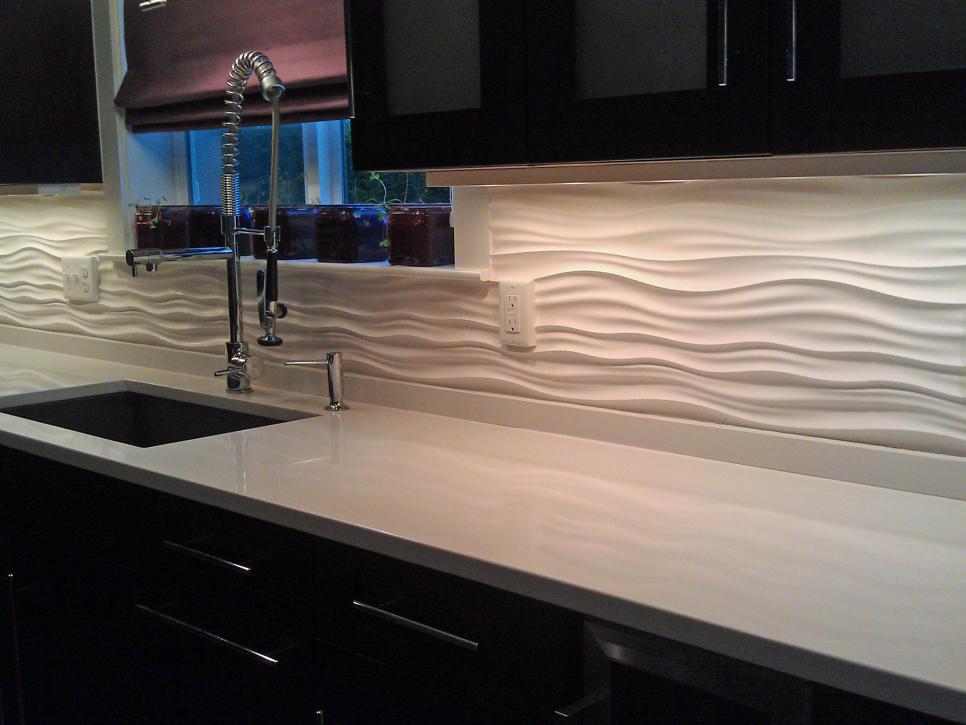 Unusual Materials: Modular Panels
Beach house kitchens needn't be blue and green, of course. Heather Pond, CMKBD, chose this paintable 'Dune' backsplash by Modular Arts for her own family's cottage on Cape Cod — and decided to keep the panels white. In addition to referencing the seashore vibe of the surroundings, the white backsplash creates dramatic shadows at night, when the cabinet lights shine upon their textured surface.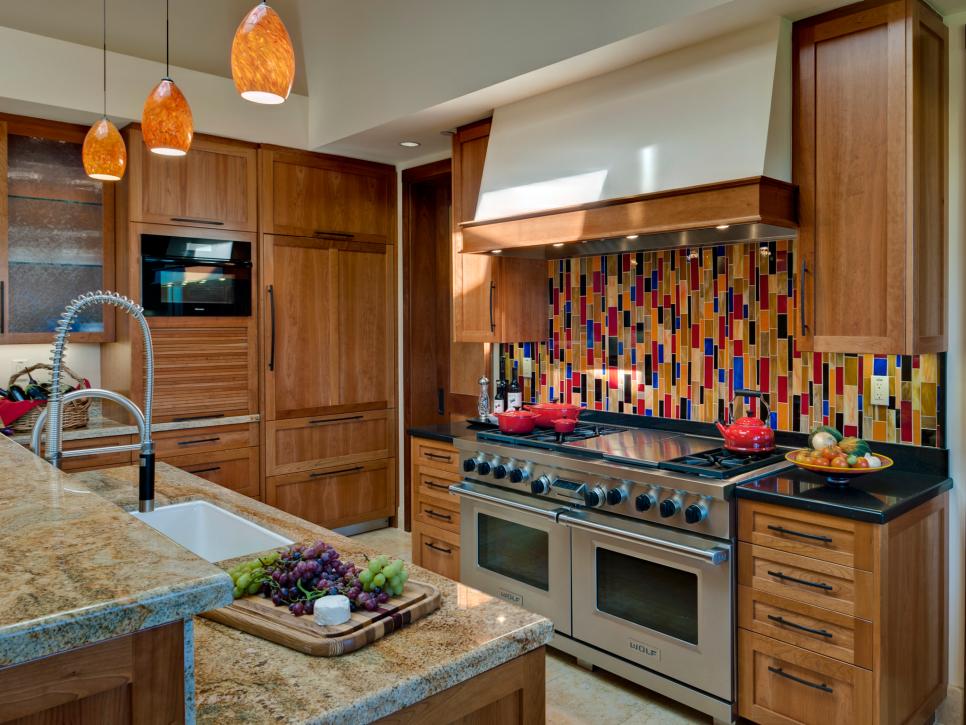 Colorful Glass Tile
The glass in this blacksplash was chosen to complement art-glass pieces in the homeowners' collection. To achieve the look, large sheets of glass were cut into tiles and laid individually. "The challenge in working with glass is getting the best colors and control," says Risë Krag, LEED, AP, who designed this kitchen. "There is a natural flow of pattern that is not consistent in color.
And the variances are beautiful but need to be implemented skillfully."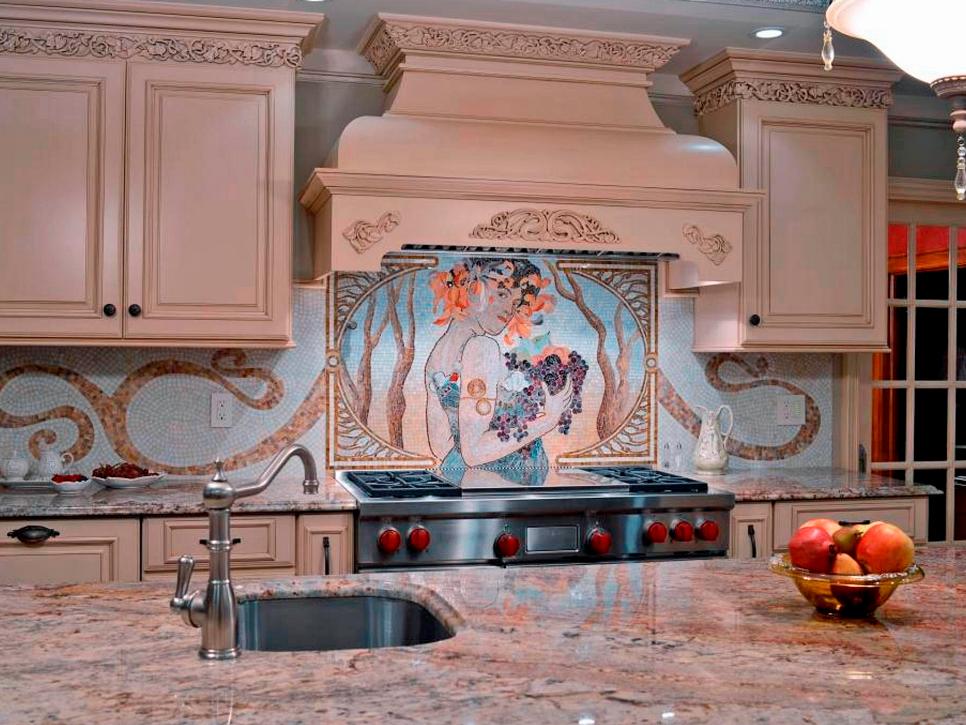 Glass Tile Mosaic
Kitchen designer Alison Solar took her inspiration for this glass-tile mosaic from Art Nouveau artist Alphonse Mucha's 1895 poster of fruit. Working closely with a local mosaic tile artisan, Solar had the backsplash, which wraps around much of the 250-square-foot kitchen, fabricated of tiles cut entirely by hand from 14×14 sheets of glass.
A slightly darker grout than the colors usually used with glass helps enhance the design by making the details pop.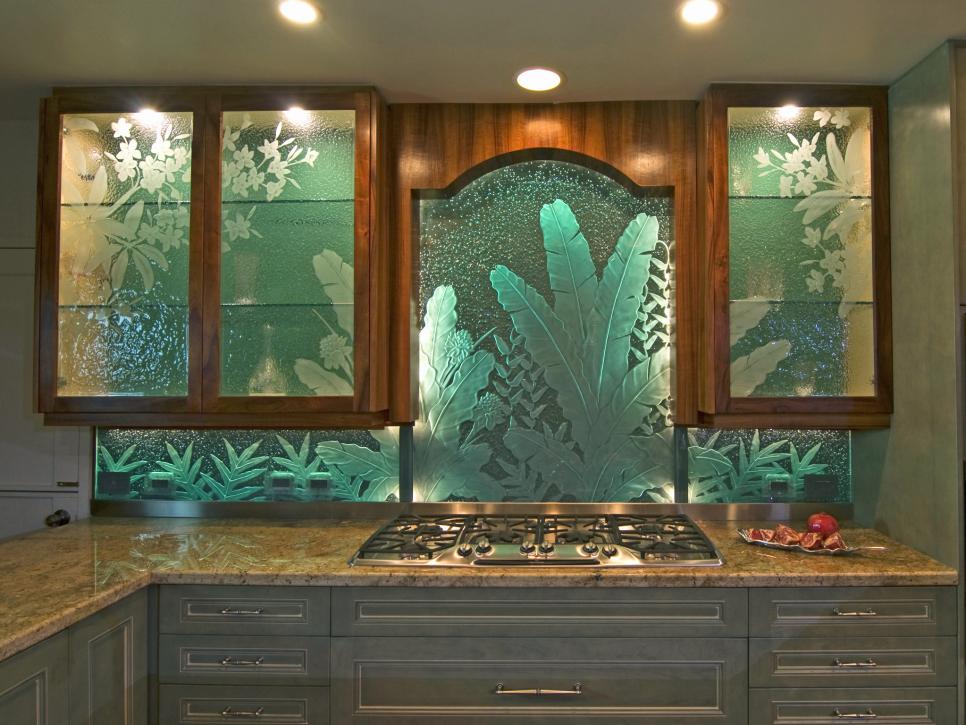 Etched Glass Tile
Another one-of-a-kind glass installation, this custom backsplash in a kitchen by Glenda Anderson and Susan Haas, CKD, CBD, of Details International, reflects the clients' love of their Hawaii home. The kiln-fired glass, created in the Honolulu workshop of a local glass artist, was both etched and carved from the back, leaving a smooth front surface for easy cleaning. LED lighting highlights the texture and carvings in the glass.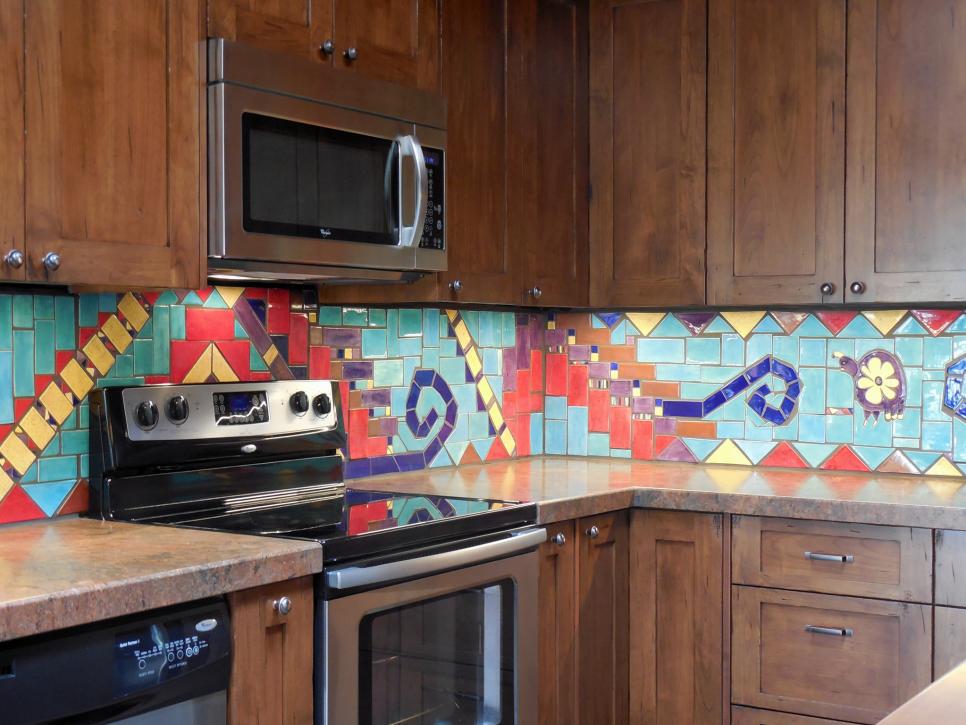 Handmade Tile
One-of-a-kind backsplash mosaics can be made of ceramic tile as well. Mosaic artist Vicki Morrow of Tile Art Mosaics in Scottsdale, Arizona,
designed and fabricated this backsplash for clients who collect southwestern art.
Handmade Tile
Made of ceramic tile that Morrow custom designs, cuts and glazes for each of her backsplash installation projects, this design was inspired by the pottery of the Mimbres Indians of southern New Mexico.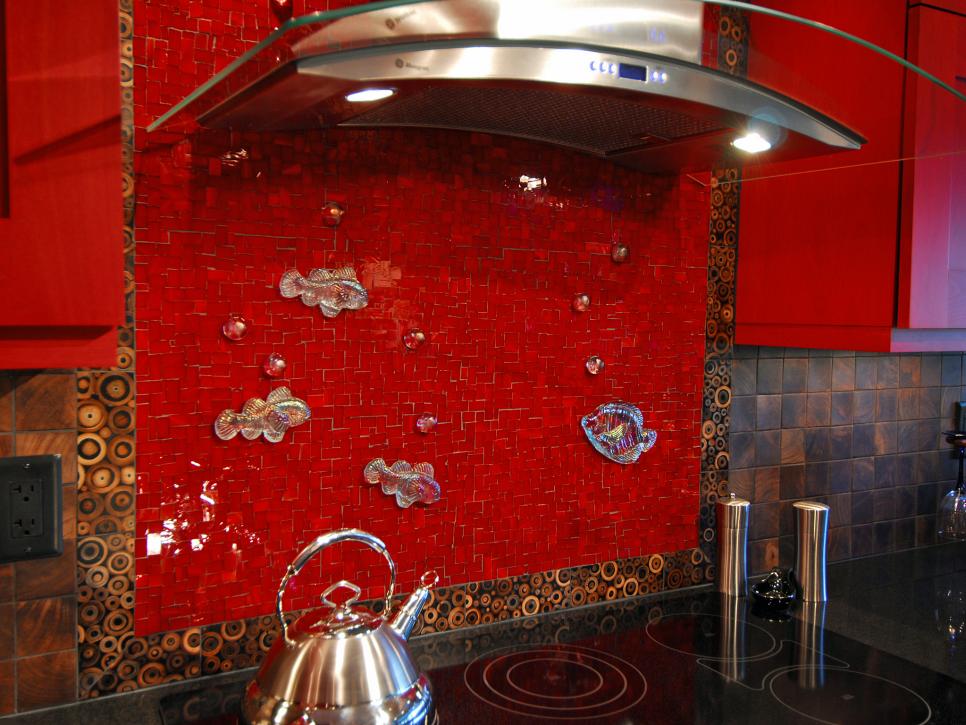 3-D Custom Glass Tile
"The backsplash is the blank canvas of the kitchen," says John Ryba, who designed this unique aquarium-inspired backsplash with three-dimensional glass fish and bubbles.
"It's an opportunity to add color, function and harmony to the overall design."
Ocean-Inspired Glass Tile
An ocean glass backsplash makes a beautiful design statement. Designer Shirry Dolgin continues the backsplash above the frosted glass cabinets to maximize its impact.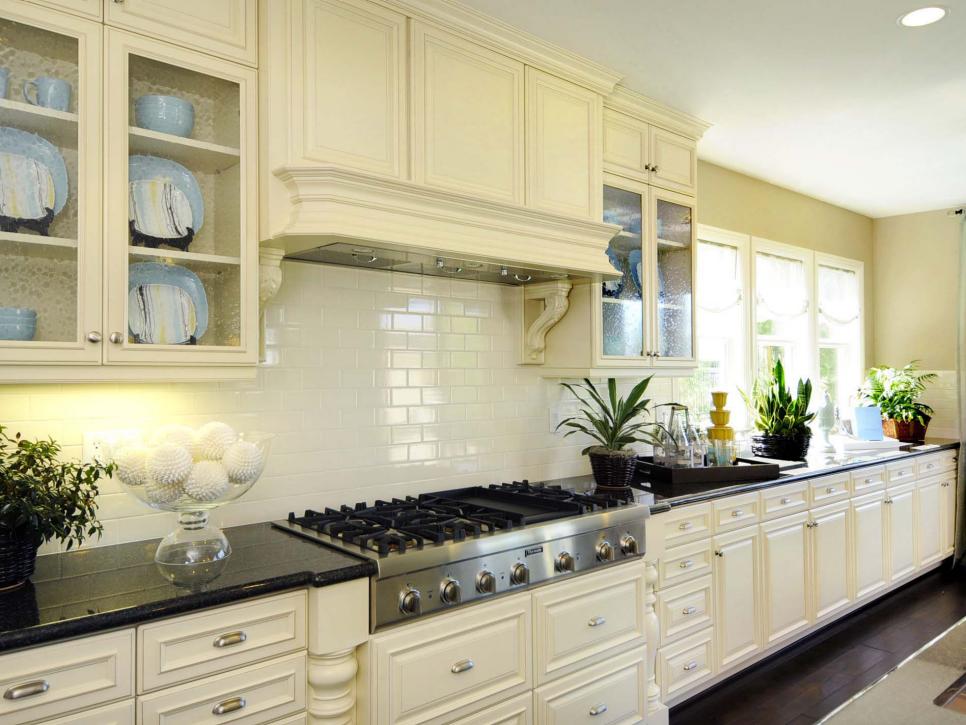 Classic Subway Tile
Available in a variety of colors, subway tile is an easy-to-clean backsplash surface that adds simple and timeless style to a kitchen
Stained Glass
The rectangular stained glass backsplash complements this kitchen's clean lines and sleek, classic style. Design by James Howard of Glen Alspaugh Kitchens and Baths
Stainless Steel and Stone
This kitchen's light green tumbled marble backsplash features diamond pattern stainless steel accent tiles that dazzle and shine.
The diamond motif is continued with the kitchen hardware. Design by Helen Richardson of Ammie Kim Interior Design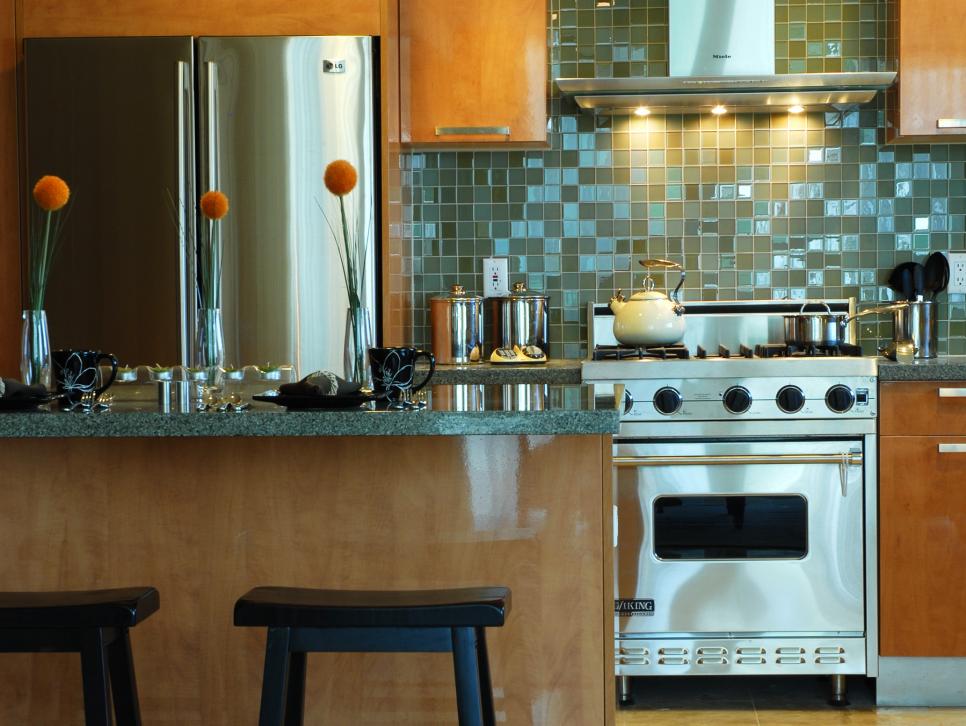 Shimmering Glass Tile
The glass tiles in this kitchen's backsplash alternate between glossy and etched, complementing the shining stainless steel appliances and honey maple cabinetry. Design by Ammie Kim
Intricate Mosaic Tile
This kitchen's stone backsplash features an intricate design that serves as a focal point for the room and complements the elegant cabinetry and countertops. Design by Lori Dennis of Dennis Design Group
Natural Stone Backsplash
This kitchen's natural stone backsplash contrasts with the modern cabinetry and professional-grade appliances and adds a high-end feel to the space.
Modern Glass Tile
The soft green glass tile backsplash in this contemporary kitchen serves as a sparkling backdrop for the industrial stainless steel appliances and dark cabinetry. intricate Mosaic Tile
Sleek Stainless Steel Backsplash
The star of this kitchen, quilted-tile stainless steel provides a low-maintenance and stylish backsplash surface. Design by SPI Designs